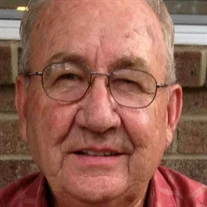 , 84, of Mooresville, N.C., passed away on Wednesday, August 9, 2023, at S. Mitchell Mack Hospice House. He was born February 11, 1939, in Ezel, Ky., to the late Virgil DeBusk and Faye McKinney DeBusk. In addition to his parents, he was preceded in death by a brother, Hershell DeBusk, and a sister, Sharon Spencer.
Marshall proudly served his country in the U.S. Army. He served two years in the Army and four years in the Reserves. He was an operating engineer with a construction company before his retirement.
He was a member of Masonic Lodge #609 in Belpre, Ohio, where he received the 50 Year Award. He was an Aladdin Shrine Ambassador and a long-standing member of the Belpre Shrine Club. He was also a member of the BPOE Elks Club #198.
He enjoyed playing golf, tinkering in his garage, woodworking, and repairing small engines. Marshall's greatest joy was spending time with his grandchildren.
Marshall is survived by his loving wife of 57 years, Linda Seyler DeBusk; daughters, Pamela Dupler (Douglas) and Michelle Levi (Robert); brother-in-law, J B Spencer; sister-in-law, Margaret Huck (James); sisters, Judy Barrow and Patricia Kelly (Melvin); grandchildren, Mason Dupler, Xander and Landon Levi; and numerous nieces and nephews.
Services will be held on Saturday, August 19, at 2 p.m. in the Chapel of Cavin-Cook Funeral Home with Rev. Russell Files officiating. Full military honors will be conducted prior to the service. Visitation for family and friends will be from 12 to 2 p.m.
In lieu of flowers, memorials may be made to S. Mitchell Mack Hospice House, 1325 Mecklenburg Hwy., Mooresville NC 28115, or write a thank you note to Hospice for the special and loving staff they have and the wonderful compassion they show to all of their patients and families.
Cavin-Cook Funeral Home and Crematory, Mooresville, is serving the DeBusk family. Condolences may be sent to the family at www.cavin-cook.com.