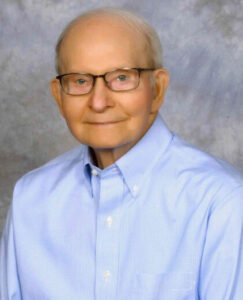 Marvin Bobby Cline, 89, of Statesville, N.C., passed away peacefully Saturday, November 12, 2023, after a long illness. Bob was born September 20, 1934 in Rowan County, the son of Marvin Love Cline and Polly Wood Cline. He was a graduate of Cleveland High School in 1952. Bob's early employment included Southern Railway in Salisbury, N.C., and managing the family restaurant, Cline's BarBeque on Highway 70 in Statesville. He also owned and managed the Country Kitchen Restaurant and Master Hosts Inn during the 1970s.
Bob was a previous member of Fairview Baptist Church and was currently a member of Hebron Baptist Church. He was an active member of the CIA Class at Hebron until his health declined.
He graduated from the Missouri Auction School in 1961 and was known for the many land auctions he conducted. Bob was very instrumental in starting the Auctioneer Association of North Carolina and was a charter member. Bob served as President in 1967-1968 and served on many board positions and was inducted into the AANC Hall of Fame in 1984. He was a graduate of the Certified Auctioneer Institution. He was a member of the NC Auctioneer Licensing Board from 1982 to 1988 and served as chairman in 1984-9985. Bob was a Realtor and owned Piedmont Auction and Realty, selling property in North Carolina, South Carolina and Virginia.
He developed many subdivisions in Iredell County, Rowan County and Wilkes County, including Baymount, Iredell Heights, Meadowview, Ft. Dobbs Farms, MeadowOaks I, II, and III, Dobbs Valley I, II, III, and Carter's Farm.
Bob was a member of the Mt. Moriah 690 Masonic Lodge in Statesville and received the Diamond Jubilee Emblem on December 31, 2022. He was a member for 61 years. Bob was a member of the Statesville Shrine Club and a member of the Oasis Temple of Charlotte, having received the York Rite of Free Masonry in North Carolina in 1989. He was a past member of the North Wilkesboro York Rite for 29 years.
Bob was an avid big game hunter and traveled throughout the United States, Canada, Mexico, and Africa on hunts, and he also enjoyed hunting small game and birds near home.
In addition to his parents, Bob was preceded in death by a sister, Geraldine Cline Myers and husband Gilbert R. Myers Sr., a brother Billy Ray Cline and wife Ola Cline, and brother-in-law, Jerry Williams.
Those left to cherish his memories are his wife of 30 years, Denise York Cline; his daughters, Bonnie L. Cline of Statesville and Donna C. Joyce (Donny) of Greensboro; stepsons, Eddie Busque of Clover, S.C., and Daniel Busque of Statesville; and sisters, Ann Cline Emmrich (Ralph) of Matthews and Bonnie Cline Williams of Statesville. Also surviving are grandchildren, Elisha Piland (Jay), Angela Burgess (Brian), Kirsten Hampton (Mitchell), Donny, Dillon, and Ben Joyce, and Hunter and Sydney Busque; seven great-grandchildren, and nine nieces and nephews.
The family would like to thank Bob's special caregivers Crystal and Tasha and the wonderful nurses and staff of Hospice and Palliative Care of Iredell County.
Funeral services will be held Saturday, November 18, 2023, at 2 p.m. at Hebron Baptist Church, 175 Hebron Road, Statesville, N.C. The family will begin receiving friends in the Fellowship Hall at 12:30 p.m. Burial will follow the service at Clarksbury Church, 924 East Memorial Highway, Harmony, NC 28634. Services will be conducted by Rev. Darren Johnson.
In lieu of flowers, memorials may be made to Hebron Baptist Church, 175 Hebron Road, Statesville, NC 28625 or Hospice and Palliative Care of Iredell County-Gordon House, 2347 Simonton Road, Statesville, NC 28625.
Troutman Funeral Home is serving the family.