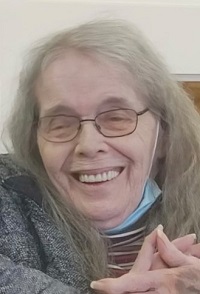 On Friday, February 3, 2023, at 2:47 a.m., Maxine Mahaffey Shoemaker, 79 years, 10 months and 4 days old of Statesville, N.C., left this life on earth, singing with her children by her side, and entered Heaven's bright shore.
Born in Iredell County on March 30, 1943, she was the daughter of the late John Virgil Mahaffey and Stella Mae Ladd Mahaffey.
Maxine was one of eleven children who grew up in the North Iredell community, and she attended Iredell County schools.
In addition to her parents, she was also preceded in death by three sisters, Ruby Cates, Noel Johnston and Ruth Mason; and three brothers, infant Curtis Mahaffey, Billy Mahaffey and Arzy Mahaffey.
Maxine was one special lady who worked hard. Sometimes she worked two and three jobs to make sure her children were taken care of and working overtime so that she could provide groceries to so many people that she felt needed help. She loved to garden and can vegetables, again to give it all away so others would not go hungry.
She worked many years for Statesville Veneer Company, which was originally Statesville Plywood & Veneer Company, and then changed to Masonite and then Bruce Hardwood Flooring. She had also worked at Hill Haven Nursing Home as a CNA for several years.
One of the things that all who knew her will say is that Maxine was a prayer warrior. Every day she spent three or four hours praying for her family, friends, church family and many times for those she would never knew, asking God to bless each person in the way that only God can. Even during her transitioning to her heavenly home, her love for others was shown as she prayed for 30 minutes, calling out the names of so many.
Maxine was a member of Statesville Full Gospel Tabernacle – The WAVE, where she faithfully taught Sunday School for over half of her life. She loved to read the Bible and tell others about the goodness of God.
Her greatest happiness in life was her children. She shared a bond with them that no one could ever explain or replace. She was proud that both her children were ministers and served as her pastors. And oh, how she loved to join around the piano with her kids and sing.
Those left to cherish her memory are her daughter and son-in-law, Pastor Tammy H. James and Dr. Jeffery James; her son, Pastor Max E. Hayes; granddaughter, Crystal Rose James Lorenson (Brian); great-granddaughter, Kairi, and her adopted son, John Carpenter.
She is further survived by her twin sister, Arlene Johnson; two other sisters, Louise Parks (Gary) and Evelyn Edwards (Dwight), and brother, Larry Mahaffey; several nieces and nephews and more friends than anyone could count.
Sunday, February 5, 2023, will be a day of celebration as Maxine's life will be honored and remembered. The family will receive friends from 1:30 to 3 p.m. with the service beginning at 3 p.m. at Statesville Full Gospel Tabernacle – The WAVE, 135 Village Point Drive Statesville, NC 28625.
In keeping with Maxine's wishes, the service will be filled with singing and worship, and it will be officiated by her children. She loved the color red, so everyone attending the services is asked to honor her by wearing something red.
Serving as pallbearers will be Dr. Jeff James, James Carrier, John Carpenter, Woody Hooks, Donnie Bandy and Daniel Bandy.
The staffs of Bunch-Johnson Funeral Home of Statesville, N.C., and Linn-Honeycutt Funeral Home of China Grove, N.C., will serve as honorary pallbearers.
Maxine will be laid to rest during a private family burial at Iredell Memorial Gardens.
The family would like to express their deepest appreciation to the staff of Autumn Care of Statesville, especially Lori Walker "Laurel", Lauren Gardner, Carly Filiault, Autumn Kiser "Big Momma", Nicole Nix, Jodi Walker "Evelyn", Chasity Carswell, and Amanda Martin, for their amazing, compassionate care and love shown to Maxine and the family as a whole. Melissa Deal, Katarzyna "Kaisa" Qutermous and Jessica Freeman were wonderful Nurse practitioners to work with. The Housekeeping, Laundry and Dietary departments shared so much concern for Maxine. Our family is forever grateful to you all!
Memorial donations may be made to SFGT – THE WAVE, P.O. Box 28, Scotts, NC 28699.
Words of comfort and fond memories may be shared at www.bunchjohnsonfuneralhome.com.
Bunch-Johnson Funeral Home and Linn-Honeycutt Funeral Home are honored to serve Maxine's family.