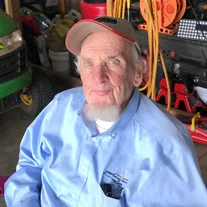 Mitchell "Mick" Wade Kennerly, 86, departed for his heavenly home on June 22, 2023, where he was greeted by his son, Bruce Kennerly, and they picked up conversations about Mick's beloved Atlanta Braves.
Mick was born in Mecklenburg County, N.C., to Ruby Dane Caldwell on August 6, 1936. He was raised by Lemmie White Kennerly and Bruce Reid Kennerly in Iredell County, N.C., and they preceded him in death. He was also preceded in death by a half-brother, Steve Caldwell, and a son, Bruce Reid Kennerly.
Mick is survived by his loving wife of 61 years, Lynda Goodrum Kennerly; son James Kennerly; grandson JD (Jessica) Kennerly; two great grandchildren, Kylie Faith Kennerly and Edward "Reid" Kennerly; daughter-in-law Jenny Kennerly White; and former daughter-in-law, Julie Kennerly.
"Pop" was an amazing husband, dad, father-in-law, and grandpa who would light up when his littlest grands would come for a visit.
Mick was a proud graduate of Mooresville High School and always wore his high school class ring. His love of Blue Devils extended past Mooresville to include Duke basketball, and he and his UNC Chapel Hill-loving daughter-in-law enjoyed many great rivalry moments between Duke and Carolina. After graduation, Mick volunteered for service in the U.S. Army in November 1956. He spent most of his time in Germany and was a driver for upper brass personnel. He was released from active duty in October 1959 and returned to Mooresville to begin his family and life with Lynda.
Mick was employed by JN Pease, Associates in Charlotte for most of his working career. Additionally, he worked at the Mooresville Recreation Department for over 20 years. Mick also served his community as a Volunteer Firefighter with the South Iredell Volunteer Fire Department, thus beginning a tradition of fire service that would include Bruce and JD.
Mick had several loves. First and foremost, he loved his family. He and Lynda loved each other tremendously and together created a loving home for Bruce and James. He had such pride in Bruce, James, and JD, and was over the moon for Kylie and Reid. He also loved his dogs, especially Max and Lucy 1 and Lucy 2. Mick would be seen around town taking the dogs for rides in his green pickup truck. Mick also loved baseball and coached many young Mooresville boys in Little League, as well as in church softball. His favorite professional baseball team was the Atlanta Braves, and he would sit and enjoy watching them and coaching from his recliner. Lastly, Mick loved sweets! His favorites were Hershey Miniatures, melt away peppermints, and Bruce's black walnut pound cake with a brown sugar glaze icing.
Mick leaves behind a long legacy of kindness and laughter, and his dry sense of humor will be missed by many.
The family will receive friends on Tuesday, June 27, from 1 to 2 p.m. with a service following at 2 p.m. at the chapel of Cavin-Cook Funeral Home. An inurnment will follow the service at Glenwood Memorial Park.
In lieu of flowers, memorials may be made to the Humane Society of Iredell, 110 Robinson Road, Mooresville, NC 28117.
Cavin-Cook Funeral Home & Crematory, Mooresville, is serving the Kennerly family. Condolences may be made to the family at www.cavin-cook.com.