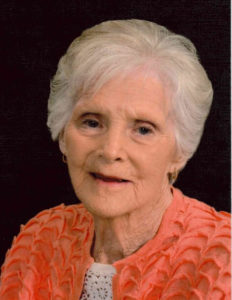 Nellie Cook Karriker, 91, of Troutman, N.C., passed away at her home on Wednesday, March 29, 2023.
Mrs. Karriker was born July 17, 1931, in Iredell County, the daughter of the late Robert P. Cook and Mamie Rash Cook. Nellie was an industrious lady, having worked for Thorneburg Hosiery Mill and John Boyle and Sons. Her home became a loving daycare business for dogs (up to 17 at a time, that she enjoyed caring for.) Nellie was famous for her country-style deer steak and her apple dumplings. She was a talented quilter, having made quilts and quillows for her children, grandchildren, friends, and neighbors. She enjoyed her flowers and feeding her birds, especially her Red Birds.
Mrs. Karriker was preceded in death by her husbands, M.L. Tucker and Steve Karriker. She was also preceded in death by her son, Michael Cook Tucker; her grandson, Timothy Cale Kyles; her great grandson, Loyd William Lyons III; her stepson, Scotty Karriker; four sisters; and nine brothers. Nellie was the last living child from a family of 14.
Those left to cherish Nellie's memory include her sons, Jeff Tucker (Teresa) and Tim Tucker (Angela); her daughters, Missy T. Kyles and Bonnie T. Mayberry (Jerry); her daughter-in-law, Nancy Cook; her stepdaughters, Sharon Brown and Susan Privette (Rick); seven grandchildren; eight great-grandchildren; and four step grandchildren.
A funeral service celebrating the life of Nellie Karriker will be conducted at 3 p.m Monday, April 3, 2023 at Beulah Baptist Church with Reverend Brian Burgess officiating. The family will greet friends from 1:30 to 3 p.m. at the church prior to the service. Burial will follow the funeral at Beulah Baptist Church Cemetery.
The family would like to extend their sincere thanks to Mrs. Karriker's cargivers, Mindy Ostwalt, Sylvia Wright, and Sherri Ayers (her devoted best friend). Their support, love and care were a blessing to our family.
In lieu of flowers, those wishing to make memorials are asked to consider Hospice and Palliative Care of Iredell County, 2341 Simonton Road, Statesville, NC 28625. Online condolences may be made to the Karriker family at www.troutmanfuneralhome.com.
Troutman Funeral Home is serving the family.