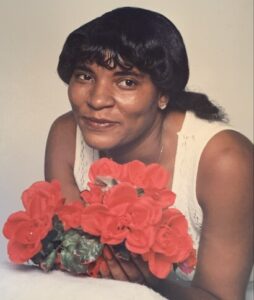 Pamela Elaine Lawrence was born on November 1, 1962, in Iredell County to the late Brisk Clemmons and Emma Lawrence. Pamela passed away at the Gordon Hospice House on Saturday, October 21, 2023. She was a 1982 graduate of Statesville High School and she worked as a private duty nurse for over 20 years.
She was preceded in death by her mother, Emma Lawrence; her father, Brisk Clemmons; six siblings; three sisters, Junis McGhee, April Lawrence, and Yonnah Parks; and three brothers, Kenny Lawrence, David Parks, and Willie Lawrence, all of Statesville.
She leaves to cherish her memory her son, Kenddrick (Rasheama) Lawrence; a nephew that was like a son, Justin Alexander; and a very special niece, Laquesha Lawrence. She also leaves behind a granddaughter, Halajia Lawrence; the father that raised her, Melvin Parks; eight sisters, Shirley (Carl) Lawrence, Patricia Rucker, Betty Parks, DoAlicia Parks, Ruby (Bryan) Woodberry, Teresa (Kenya) Rankins, and Linda Kay Smyre; Aunt/Sister Anette (Marvin) Bey; sister-in-law, Carolyn Lawrence; brothers, James Lawrence, Brisk Clemmons Jr., Melvin Colvert, and Edward McIntosh; two very special friends, Muriel (Harold Lee) Jackson and Kay Lofton; special nieces, Tailynn "Toot" Allison, Ava-Reese "Ms. Juicy" Miller, and Emma "Boss Lady" Cain.
Ms. Lawrence will lie in state on Tuesday, October 31, 2023, from 9 a.m. to 5 p.m. at Nicholson Funeral Home. A Celebration of her Life will be held on Wednesday, November 1, 2023, at 3 p.m. in the Chapel of Nicholson Funeral Home with Pastor Michael Turner officiating and with music by Randy Miller and Perry Gibbs.
To view Ms. Lawrence's Celebration of Life LIVE, please visit https://view.oneroomstreaming.com/index.php?data=MTY5ODI2MDc0OTI3ODA3MCZvbmVyb29tLWFkbWluJmNvcHlfbGluaw==.
Nicholson Funeral Home has the honor of serving the family.