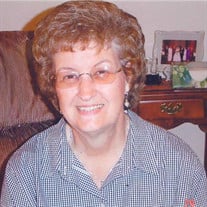 Patricia Mayhew Deaton, 84, of Mooresville, N.C., passed away on November 4, 2023, after a lengthy illness.
Patricia was born on September 30, 1939 to the late Edith Ballard Mayhew and John Kermit Mayhew of Mayhewtown, N.C. She graduated from Troutman High School in 1957, and soon after began working at Troutman Shirt Mill in Mooresville. On April 10, 1959, she married the love of her life, Bobby Gene Deaton. They were married for 37 years until he passed away in 1996. She retired from Draymore Manufacturing, where she worked as an inspector. Patricia was a lifetime member of the McKendree United Methodist Church, where she was active and served her church well until her illness. Patricia loved Southern gospel music, eating out with family and friends, and was a diehard Dale Earnhardt Jr. race fan.
She was preceded in death by her husband, parents, brother, James T. Mayhew and his wife Colleen Mayhew.
Left to cherish her memory are her brothers, Billy G. Mayhew (Shirley), Wayne Mayhew (Barbara), both of Mooresville, and Winston Mayhew (Janice) of Cornelius, N.C., along with her only sister, Ann M. Harris of Mooresville. Her legacy will live on through her numerous nieces and nephews, who loved their Aunt Pat.
The family wishes to extend a special thanks to Mary "Doodle" Atwell for her kindness and friendship to Patricia over the years. Patricia and Doodle would meet before work and chat over their morning coffee. When Patricia became ill, she was faithful to visit her weekly and often called to check on her. Doodle was a true friend to Patricia for over 30 years.
The family will receive friends on Thursday, November 9, from 6 to 8 p.m. at Cavin-Cook Funeral Home of Mooresville. Funeral services will be held at 4 p.m. on Friday, November 10, in the Chapel of Cavin-Cook Funeral Home. Immediately following the service, per her wishes, Patricia will be laid to rest at Glenwood Memorial Park at sundown. Rev. David McHale and Rev. Chad Nelson will officiate.
Flowers are welcome and memorial contributions may be made in memory of Patricia Deaton to St. Jude Children's Research Hospital, 501 St. Jude Place, Memphis, TN 38105 or McKendree United Methodist Church, 291 McKendree Road, Mooresville, NC 28117.
Cavin-Cook Funeral Home & Crematory, Mooresville, is serving the family. Condolences may be made to the family at www.cavin-cook.com.