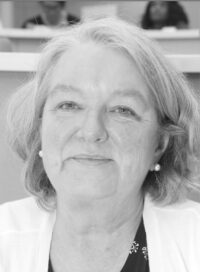 Peggy Davis Gold, 63, of Durham, N.C., died on November 1, 2023, at Duke Regional Hospital. She was born Nov. 24, 1959, and was the daughter of the late Barbara Geer Davis and Dr. Richard T. Davis.
She is survived by her son, Austin and his wife Tara of Durham; her brother, Richard T. Davis Jr. of Danville, Va.; her sister, Nancy Davis and husband Tip Nicholson of Statesville; nephew Richard T. Davis III (Rachelle) of Largo, Fla.; and nieces Brittain Kenney (Will) of Charlotte, Stacy Knabb (Drew) of Fox Point, Wis., and Peggy Nicholson (Justin Tosco) of Durham; and her great nieces and nephews who loved their "Aunt Lady."
For more than 20 years, Peggy served as a chaplain at Duke Hospital. She was a certified educator for the hospital's Clinical Pastoral Education program. A graduate of Agnes Scott College in Atlanta, Peggy received her master's degree in divinity from Duke University. She completed her residency in pastoral care at Duke and is certified as an ACPE certified educator by the Association of Clinical Pastoral Education. She previously served as a chaplain with Partners in Caring, an HIV/AIDS ministry.
Perhaps Peggy's greatest gift was how she made everyone around her feel truly seen and heard, knowing exactly whether you needed wisdom, wit, or just an understanding smile. In addition to bringing great conversation, laughter and love to any occasion, Peggy excelled in party planning and gift giving. Her gifts were also shared in the way she eased the nerves of countless couples as their wedding officiant and comforted grieving families with words and compassion in times of loss.
Extremely proud of her son, Peggy delighted in the company of Austin and Tara and the home they created for foster children. While she loved her grandmother name, "Mamie," she especially loved "being" a Mamie, a role which she embraced devotedly.
The memorial service for Peggy will be held Friday, November 17, at 3 p.m. in the outdoor sanctuary at Bluestem Conservation Cemetery, 1900 Hurdle Mills Road, Cedar Grove, N.C. Because this is a natural area, guests are encouraged to dress comfortably. A private burial will be held earlier. Friends and family are also invited to a time of "story-sharing" on Thursday, November 16, from 6 to 8:30 p.m. at the home of Austin and Tara, 3 Brown Bark Court, Durham.
To honor Peggy, donations may be made to the 501(c)3 Bluestem Community.