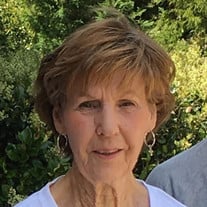 Peggy Jo West Smith, 87, of Mount Ulla, N.C., passed away on Wednesday, August 23, 2023. She was born on March 14, 1936, in Iredell County, N.C., to the late William and Nellie Karriker West.
She earned her associate degree in business from Lenoir Rhyne University. Peggy worked in accounting for Troutman Industries for over 25 years, and then retired from the Town of Davidson after 15 years. She was a lifetime member of New Perth Church in Troutman, N.C., and St. Luke's Lutheran Church in Mt. Ulla. She had a very strong faith in the Lord and everlasting love for her family, including her pets, Rosie, Sam, Max and Fancy. She was an avid Tar Heel fan and Atlanta Braves fan. She enjoyed cooking, reading, and spending time with her family and her dogs. She will be greatly missed.
In addition to her parents, she was preceded in death by her husband of 66 years, Ray Sloan Smith.
She is survived by her son, Gerry Smith; daughter, Karen Smith Edge; son-in-law, Greg Edge; and grandchild; Corey West Edge.
Funeral services will be held at 2 p.m. on Sunday, August 27, 2023, at St. Luke's Lutheran Church, Mount Ulla with Pastor Scott Swixx officiating. Burial will follow the service in the church cemetery.
In lieu of flowers, memorials may be made to Humane Society of Mooresville, 2106 Charlotte Hwy., Mooresville, NC 28117; Hospice & Palliative Care of Iredell County, 1325 Mecklenburg Hwy., Mooresville, NC 28115 or St. Luke's Lutheran Church of Mt. Ulla.
Cavin-Cook Funeral Home is proudly serving the Smith family.