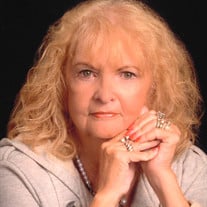 Peggy Parker Troutman, 85, of Mooresville, N.C., passed away on Monday, March 6, 2023. She was born on June 30, 1937, in Iredell County, N.C., to the late George and Maggie Carrick Parker.
Mrs. Troutman started working at Draymore Manufacturing in 1958 and retired after 38 years of service. She was a member of Central United Methodist Church in Mooresville. She enjoyed the beach and being out in the sun. Mrs. Troutman loved animals, especially her beloved puppy, Bo. She was a loving wife, mother, grandmother, and friend.
In addition to her parents, she was preceded in death by her husband, Michael Ernest Troutman; brothers, Lloyd Parker and Fred Parker; and niece, Leigh Ann Parker.
She is survived by her daughters, Tamara Stroud (Chad) and Susan Lytle; grandchildren, Clint Lytle, Lauren Brown, and Shannon Vandell (Luke); great grandchildren, Winston, Evelyn, and Owen Vandell; sister-in-law, Avie Troutman; and nieces and nephews, Terri Brannon (Roy), Janet Robinson (David), Douglas Parker (Leigh), Jeffrey Parker (Angela), Vickie Freeze, and Stephanie Raynes.
A graveside service will be held at 2 p.m. on Saturday, March 11, at Glenwood Memorial Park.
In lieu of flowers, memorials may be made to Cystic Fibrosis Foundation, 4550 Montgomery Avenue, Suite 1100 N, Bethesda, MD 20814.
Cavin-Cook Funeral Home & Crematory, Mooresville, is serving the Troutman family. Condolences may be made to the family at www.cavin-cook.com.