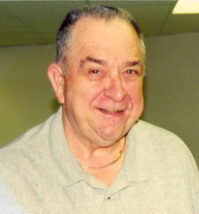 Reginald Kay Ostwalt passed away peacefully at home on September 14, 2023, after a 10-year fight with Parkinson 's disease. He was 87 years old.
He was born on May 5, 1936, in Iredell County, N.C., to Dewey Hobson Ostwalt and Bessie McGee Ostwalt. He graduated from Troutman High School in 1954 and married his beloved wife, Joan Alexander Ostwalt, on February 5, 1955. They were married for over 68 years.
He spent his working years employed at Southern Screw and Overcash Machine Shop. In 1964, he started his own business, Ostwalt Machine Shop, and in 1981 it became Ostwalt Machine Company with his wife as secretary. They were a great team.
He was a "jack of all trades" and could fix anything. He had an amazing mind and memory, even up until his passing. He was a volunteer fireman and on the rescue squad for Troutman Fire Department. He was a deacon at his church. He was always helping with things around the church and at home. He loved the Lord and was a great husband, Dad, and Pawpaw.
He loved traveling around the world. He and Mother traveled to England, France, Germany, and the Holy Lands, among other places. His favorite trip was his and Mother's trip to New Zealand. He and Mother spend many years traveling in their motorhome (and later their camper) all across the United States. One memorable trip (with us kids in the I970s) was all the way "out west" in the camper Dad built.
He is survived by his wife, Joan; his son, Derek Kay Ostwalt; and daughter, Melissa Ostwalt Poole (Donnie), of Troutman. Also surviving are his granddaughter, Krystle Williams (Sam) of Durham, N.C., and grandson Andrew Willis (Samantha) of Conover, N.C.
The family would like to thank Dr. Sam Stout for taking care of Reginald since Dr. Stout came to Statesville. We also thank all the nurses at Hospice and Palliative Care of Statesville who took care of Dad. His family, Joan, Derek, Melissa and Donnie were his caregivers at home.
He is greatly missed already, but we know where he is and that we will see him again. He is now at rest with the Lord.
The family will greet friends on Monday, September 18, 2023, from 10 to 11 a.m. at Charity Baptist Church, 1365 Old Mountain Road, Statesville, N.C. A funeral service celebrating the life and homegoing of Mr. Ostwalt will be conducted at 11 a.m. at the church. Pastor Kevin Courtney and Pastor Jim Bowman will officiate. Burial will follow the funeral service at Iredell Memorial Gardens.
In lieu of flowers, donations may be made in Reginald's memory to his church, Charity Baptist Church, 1365 Old Mountain Road, Statesville, NC 28677, or to BEAMS (Bible Education and Missionary Services), P.O. Box 10200, Gulfport, MS 39505.
Troutman Funeral Home is serving the family.