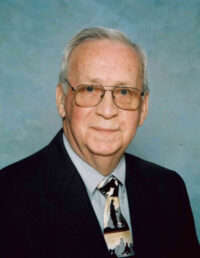 Rev. C. George Sherrill, 94, of Troutman, N.C., went home to be with the Lord on Saturday, July 22, 2023. He was the husband of the late Jacqueline Moose Sherrill and the son of the late Hoke and Julia Guffey Sherrill.
He was a graduate of Catawba County schools and Central Wesleyan College. He served as a minister of the Western North Carolina Conference of United Methodist Churches. He was a member of the Lions Club and previously served as a Troop Commissioner for the Boy Scouts of America. He enjoyed woodworking, ceramics and sewing. He dearly loved his family. He was a veteran of the U.S. Army Air Corps.
In addition to his wife and his parents, George was also preceded in death by one daughter and her husband, Karen S. Williamson and Gene Williamson; one grandson, John Williamson; and two brothers, Mal Sherrill and Max Sherrill.
George is survived by his children, Kenneth George (Karen) Sherrill, Vanessa (Tim) Jones, Stephen Ponder (Marian) Sherrill, and David (Gracia) Sherrill; and his grandchildren, Catherine (Bill) Loosier, Caleb (Jess) Sherrill, Carrie Sherrill, Tom Williamson, Jessica Williamson (Chad) McCurdy, Alexis (Kris) Lambert, Amanda (Justin) Minshew, Ashlee Jones, and Grayson Sherrill. Also surviving are 12 great grandchildren; one brother, Hal Sherrill; and several nieces and nephews.
Funeral services will be held on Saturday, July 29, 2023, at 11 a.m. at Wesley Chapel United Methodist Church with burial to follow in the church cemetery. Rev. Todd McCullough and Rev. Charlene Hutchins will officiate. The family will receive friends one hour prior to the service from 10 until 11 a.m.
In lieu of flowers, the family requests that memorial donations be made to Wesley Chapel United Methodist Church Cemetery Fund, PO Box 838, Troutman, NC 28166.
Troutman Funeral Home is serving the family.