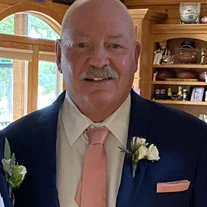 Robert Charles "Mad Dog" Monson II, MD, 76, of Mooresville, N.C., went to be with his Lord and Savior unexpectedly on Tuesday, October 3, 2023, at his residence.
He was born on March 29, 1947, in Detroit, Mich., to the late Robert Charles and Lorraine Condizer Monson. Dr. Monson was a 1965 graduate of Grosse Pointe High School in Grosse Pointe, Mich. He earned his BS at University of Michigan in 1969 and then graduated from The University of Michigan School of Medicine in 1973. He completed his residency at The University of Florida in 1978 as Chief Resident. He then began to practice General, Vascular, and Trauma Surgery in Charlotte. In 2016, he retired from surgery after 35 years of service.
He loved The University of Michigan athletics, especially football. Go Blue! Most importantly, he loved his family and spending time with them. He had a life full of love from his many dogs, most recently Jill and Roscoe. Rob enjoyed traveling, RV trips to Big Sky Montana, playing golf, fly fishing, pickleball, and snow skiing. He was an active member of The Cove Church in Mooresville, where he enjoyed serving. He was also a former member of the Health Reach Clinic and served on the Board of the Iredell County Board of Health.
In addition to his parents, he was preceded in death by his sisters, Sharron Loveland and Bobbi Stawick.
Rob is survived by his wife of 37 years, Becky Monson; sons, Robert Charles "Chuck" Monson III (wife Lisa), Zach Monson (wife Jessica); his beloved granddaughter, Ava Grace Monson, aka "Nugget"; brother, Dr. Scott Monson (wife Becky); and several nieces and nephews.
The family will receive friends on Saturday, October 7, from 12:30 to 2 p.m. with service following at 2 p.m. at The Cove Church in Mooresville with Pastor Mike Madding officiating.
In lieu of flowers, memorials may be made to The Cove Church, P.O. Box 3034, Mooresville NC, 28117.
Cavin-Cook Funeral Home & Crematory in Mooresville is serving the Monson family. Condolences may be made to the family at www.cavin-cook.com.