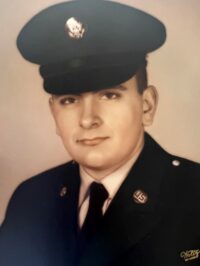 We are sad to announce that on July 27, 2023, Robert Gregory Zaccardelli passed away peacefully in his home in Statesville, N.C., with his beloved wife of of 51 years at his side. Early that morning the clouds parted and the Aurora Borealis welcomed him into heaven.
The eldest of two children, he was born on August 1, 1945. He was preceded in death by his father, Robert Gregory Zaccardelli; his mother, Winifred Shaff; his brother, Phillip Zaccardelli; and an infant son.
He is survived by his wife, Geraldine Zaccardelli; daughter, Dawn Zaccardelli-Gates (Ryanne, Emily, Jaclyn); son, Marc Zaccardelli and wife Andrea Zaccardelli (Jada, Dorian).
After graduating from Pershing High School in 1963, he chose to serve in the Vietnam War from 1963-1967, in intelligence, as he was too large a target for the front lines. After discharge he began college to become a school teacher or writer. He changed career paths soon after as he had one child and one on the way. He apprenticed for Chrysler and was given a position before the apprenticeship ended due to his elite intelligence and speed at which he completed his jobs.
Greg's priority was always his family and providing a comfortable life.
He was an avid reader, a consumer of anything WWII, and a John Wayne fan to the end. He loved to farm and fish. He owned several boats and focused on perch, salmon, and sail fishing. He was happiest on the water in his boat.
Dad found Jesus late in life, and loved his church family.
Rest in peace, BIG guy.
Services will be at Northview Church of Christ, 2615 Amity Hill, Statesville, N.C., on August 10, 2023, with visitation at 4 p.m., the funeral at 5 p.m., and dinner to follow.
Fond memories and expressions of sympathy may be shared at www.bunchjohnsonfuneralhome.com for the Zaccardelli family.
Bunch-Johnson Funeral Home is serving the family.