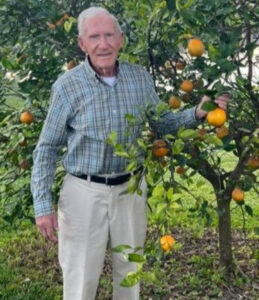 Robert James Johnson passed away peacefully at his North Carolina home on October 2 , 2023, at age 94. Robert was born November 19, 1928, in Statesville, N.C. He grew up working on his parents' farm in rural North Carolina and graduated from Harmony High School. He worked hard, much of the time at two jobs, to support his wife Louise and five children. He enjoyed gardening and repairing and restoring old cars. He especially enjoyed spending time in his later years with his family and friends on his farm near Statesville.
In 1964, he moved his family to Florida after taking a job with Tamiami Trailways Bus System, which later merged with Greyhound, where his 30-year career resulted in 3 million miles of safe driving. He was well liked by his co-workers and passengers who frequently requested that Robert Johnson be their driver. After retiring, he remained in Orlando during the winter and spent summers on his farm in North Carolina.
Robert was preceded in death by his wife of 63 years, Vivian Louise Johnson, Bristol Johnson (brother), Rachel Laymon (sister), and granddaughter Dana Cardenas.
He is survived by his five children, Cory Johnson (Melissa), Kimberly Danforth, Teresa Mann (Al), Dennis Johnson (Debbie), and Mike Johnson (Darlene), six grandchildren; eleven great grandchildren; and Dorothy Shew (sister).
A memorial service with visitation at 10:30 a.m. and service at 11 a.m. will be held October 6, 2023, at Union Chapel Baptist Church. In lieu of flowers, donations may be made to Union Chapel Baptist Church, 213 Gays Chapel Road, Statesville, NC 28625.
Nicholson Funeral Home has the honor of serving the family.