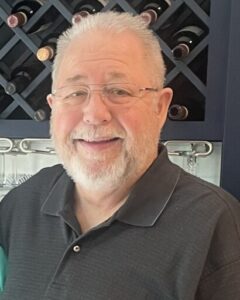 Roggie Allen Patterson, 70, of Union Grove, N.C., passed away on Friday, October 27, 2023, at Iredell Memorial Hospital. Born on March 13, 1953, in Iredell County, he was the son of the late Frank Willis Patterson and Elizabeth Baggarley Patterson.
Roggie was a man of great faith. He loved reading and studying his Bible and listening to Gospel music. He was raised in Christ Boulevard United Methodist Church, a former member of South River Baptist Church, and a longtime member of Union Grove United Methodist Church. In his early years, Roggie enjoyed golfing, and he had a passion for hunting and fishing. He loved watching "Gunsmoke" and sports, especially football. When his granddaughter, Heather was growing up, they loved watching Disney movies like "Mary Poppins" together. Roggie also enjoyed Carolina Shag music.
In addition to his parents, Frank Willis and Elizabeth Baggarley Patterson, he was preceded in death by his son, Eric Willis Patterson; and his brother, Andy Patterson.
Those left to cherish his memory include his wife of 50 years, Kathy Hicks Patterson; daughter, Sherrie Patterson Earwood (James); grandchildren, Heather Patterson (Kyle), and Joshua Howell Patterson; great-grandchildren, Haley, Isaac, and Junie; sisters, Monette Tadlock (Kenny), Angela Horton (Cris), and Melissa Patterson; his brother, Bill Patterson; numerous nieces and nephews; and his "grand-dog," Bo.
The family will receive friends from 6 to 8 p.m. on Wednesday evening, November 1, 2023, at Nicholson Funeral Home. Funeral Services will be held at 2 p.m. on Thursday, November 2, 2023, in the Chapel of Nicholson Funeral Home with Pastor Neil Shaw officiating. Burial will follow the service in Union Grove United Methodist Church Cemetery.
Family and friends are welcome to gather other times at the Patterson home.
For those who wish, memorial contributions may be made to Union Grove United Methodist Church, 1331 Sloans Mill Road, Union Grove, NC 28689.
Nicholson Funeral Home has the honor of serving the family.