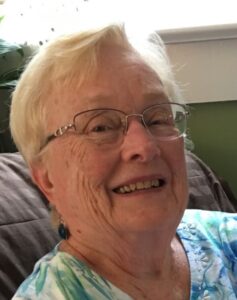 Rose Frances Schotte McGlamery of Troutman, N.C., died September 19, 2023, at the age of 85. She left this earthly life cherished and respected by all who knew her to joyfully step into the presence of Jesus Christ, her beloved Savior.
Rose was born in Staten Island, N.Y., on November 15, 1937 to Frank Robert Reynolds and Rose Mary Fillinger Reynolds, who along with her brother Frank Reynolds Jr. preceded her in death. She also lost her beloved first husband of nearly 50 years, Douglas James Schotte, as well as her second husband and dear friend, Parker Steven McGlamery.
Rose is survived by her sister, Mary Reynolds Thompson of LaGrange, Ga.; her three children, Susan Davidson, Stuart Schotte (Cathy), and Douglas Matthew Schotte; her five grandchildren, Elizabeth Dial (Michael), David Daurelle, Matthew Schotte (Amy), Nicholas Schotte (Jessica Hurst), and Erin Schotte (Jonathan Moore). Rose was very proud of her nine precious great-grandchildren: Leah Schotte, Mila Rose Schotte, Declan Schotte, Oliver Schotte, Vivian Straley, Nora Schotte, Silas Schotte, Laurel Rose Schotte, and Annetta Rose Moore. She is also survived by her nieces and nephews: John Hicks (Diana), Carole Anne Hicks, Doug Hicks (Melanie), Debbie Warren (Chris), and Jennifer Reynolds, as well as a great-niece Dallas Warren, and a great-nephew, Devin Warren (Marci).
Rose's life was devoted to loving and serving others, nurturing her family and all who knew her with godliness, generosity, kindness, wisdom, and positivity. She had a long career encompassing dairy farming, retail sales, international business, and administrative roles, leaving behind a broad spectrum of friends and acquaintances to remember her fondly. Rose was a mentor to numerous women through her church group activities, and an indispensable source of love and wisdom to her family and friends. Her legacy is one of faith, love, compassion, strength, honesty, and dignity.
Proverbs 31:25-31 praises the godly woman: "She is clothed with strength and dignity; she can laugh at the days to come. She speaks with wisdom, and faithful instruction is on her tongue. She watches over the affairs of her household and does not eat the bread of idleness. Her children arise and call her blessed; her husband also…a woman who fears the Lord is to be praised. Honor her for all that her hands have done, and let her works bring her praise at the city gate." The many friends and family who have been blessed by knowing and being loved by Rose do indeed call her blessed and lift her to God for her holy and joyful eternity.
The family will hold a private memorial service to share memories of Rose and to celebrate the wonderful and widespread impact she made on the lives of those who were blessed to know her. They ask that in lieu of flowers, memorial gifts be made to a Christ-honoring ministry in support of bringing people to a saving-love relationship with Jesus Christ or to Iredell Animal Services in support of the care and sheltering of homeless animals.
Fond memories and expressions of sympathy may be shared at www.bunchjohnsonfuneralhome.com for the McGlamery family.
Bunch-Johnson Funeral Home is serving the family.