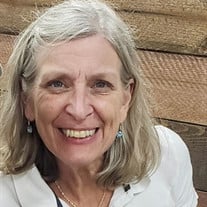 Ruth Ann Bearer Burnett, 70, of Mooresville, N.C., passed away on Wednesday, June 14, 2023. She was born on March 4, 1953, in Ligonier, Pa., to the late Louis and Mary Kennedy Bearer.
Ruth spent her life in the service of others. Ruth was a stay at home mom in Florida while her daughters were young. When the family relocated to North Carolina in the 1980s, Ruth started her 20-plus year career as a N.C. State employee. As a librarian in elementary and middle schools within Winston-Salem/Forsyth County school system, Ruth had a gift of finding books that ignited the love of reading in her students, even ones who didn't like to read. She transitioned into the Secretary/Treasurer at Kennedy Middle School and used her role to connect with more students and help them grow.
After relocating to Mooresville, Ruth began working at UNC Charlotte, where she spent the majority of her career developing and running the Technology Transfer office. Whether she was a patent paralegal or the acting director, Ruth always looked for ways to engage students and connect them with opportunities. She was the co-creator of the Five Ventures Program, which was founded to help early-stage UNC Charlotte student-led businesses grow.
Ruth used her retirement to do the things she loved: spending time with family, especially her grandchildren, working in her flower gardens and cooking up delicious meals. She would often wear a bright colored ballcap when she went out so she could be spotted easily by her grandchildren. Ruth was direct, honest and stood up for who and what she believed in. She will be missed by many.
In addition to her parents, she was preceded in death by a sister, Brenda Funk, and brother, Edward Bearer.
She is survived by her loving husband of 49 years, Douglas Burnett; children, Dr. Faith Rouco (George) and Kandas Burnett; siblings, John Bearer (Sue), Vincent Bearer (Linda), Mary Woessner (Ray), Robert Bearer (Paula), and Peggy Knupp (Tim); grandchildren, Ronin and Aven Rouco; 20 nieces and nephews and 20 great-nieces and great-nephews.
No services will be held at this time.
In lieu of flowers, memorials may be made to the American Cancer Society, 1901 Brunswick Ave #100, Charlotte, NC 28207.
Cavin-Cook Funeral Home is proudly serving the Burnett family. Condolences may be made to the family at www.cavin-cook.com.