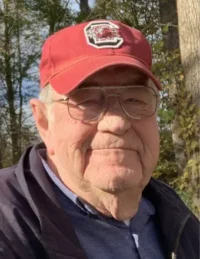 Samuel Knox McLean, 80, of Statesville, N.C., passed away on July 16, 2023, surrounded by his loving family.
Samuel, who was fondly known as Sam, was born to William Hobson and Myrtle Knox McLean on November 7, 1947, on a tobacco farm in Maxton, N.C. His father passed away when Sam was 7, and his mother kept the family together. During his teenage years, he worked on tobacco and cotton farms. After high school, he attended the University of South Carolina, where he graduated with a bachelor's degree in Math and Physics. After graduating, he was drafted by the U.S. Army and assigned to Picatinny Arsenal in Dover, N.J., to work in top secret research and development of weapons. During this time, he met the love of his life, Gail Lozier Popelka. After serving in the Army, he worked at Stapling Machines in Rockaway, N.J., Pioneer Beef Cattle in Robeson County, N.C., LOF in Laurinburg, N.C. and IBM in Charlotte, N.C. After retiring from IBM, he started his own home repair and custom furniture crafting business in Laurinburg, N.C. That's what he loved best.
Sam is survived by his beloved wife Gail and his devoted daughters, Wendy (LaQuincy) Dunn, Holly Knox (partner Jeff Hall), and Sarah (Lance) Wolfson, and his son, Frank (LoriAnne) McLean. His grandchildren include Anna, Shelby, Samuel, James, Marion, Cameryn, Quinten and Chloe.
He was preceded in death by his parents, William and Myrtle McLean, and his siblings, Joan Thompson, Bill McLean and Jack McLean.
Sam's favorite roles in life were husband, father and grandfather, and he loved the Lord with unfaltering faith. He and his wife as well as a small group of caring community members established the North Mecklenburg Crisis Assistance Ministry that continues to serve the community today. He also served as treasurer for ten years. He and his wife chaperoned teens several times on mission trips to the Appalachian Mountains. Sam was a voracious reader whose favorite author was Louis L'Amour, and he loved telling stories as much as he loved reading. He took great pleasure in camping, the great outdoors and he never met a stranger. Sam was a skilled artisan, completing such projects as planning and building his own house, building birdhouses and building handcrafted furniture. If Sam couldn't fix it, nobody could, and he had a small collection of antique tools and unique lumber. He enjoyed motorsport, football and women's college softball and always kept his vehicles in good repair. Many people referred to him as a father figure and a good man. Sam positively impacted our community, and he will be truly missed.
Sam's family will host a memorial service to celebrate on Saturday, July 29, 2023, at 3 p.m. The service will be at Nicholson Funeral Home in Statesville, N.C.
In lieu of flowers and memorials, please consider making a donation to Hospice & Palliative Care of Iredell County or your local Humane Society.
Nicholson Funeral Home is serving the family.