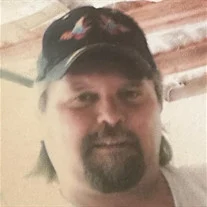 Scotty Eugene Shoemaker Sr., 55, of Statesville, N.C., passed away on July 17, 2023, after an extended illness at Gordon Hospice House in Statesville. Scotty was born December 14, 1967, in Iredell County to the late Haskell Eugene Shoemaker and Carolyn Cook Shoemaker of the home.
Scotty was a logger and of the Baptist faith.
In addition to his father, Scotty was preceded in death by his wife, Tina Marie Shober Shoemaker.
Survivors include one son, Scotty Eugene Shoemaker Jr. (Megan) of Statesville; and three daughters, Tangela Ireland (Eric), and Leanna Hoskins (Clark), of Union Grove, and Chasity Shoemaker (Heath) of Statesville; one brother, Randy Shoemaker (Crystal) of Statesville; and nine grandchildren, Lathan, Cayson, Peyton, Mason, Emily, Bentley, Jake, Lila, and Millie.
A graveside service will be conducted on Thursday, July 20, 2023, at 12:30 p.m. at Rocky Hill Baptist Church, 823 Mountain View Road, Statesville, NC 28625. Rev. Roger Holland will officiate. The family will receive friends on Thursday, July 20, 2023, at 11 a.m. at Chapman Funeral Home, 158 Stony Point School Road, Stony Point, NC 28678.
Chapman Funeral Home is serving the Shoemaker family.