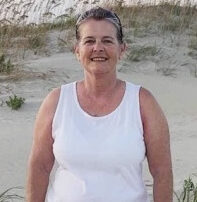 Sharon "Sherry" Karriker Brown born on August 14, 1966, in Iredell County, N.C. She peacefully passed away at the age of 57 on Saturday, November 18, 2023, at Iredell Memorial Hospital. Surrounded by loved ones, she displayed incredible bravery throughout a lengthy illness.
Sherry was the daughter of the late Steven Karriker, and she was sadly preceded in death by her cherished son, John Mark Brown, and beloved brother, Larry Scott Karriker.
She is survived by her mother, Shelby Jean Karriker, along with her daughter, Hannah Brown (Seth); her son, Noah Brown; and her granddaughter, Elara Grace Brown. Additionally, Sherry is survived by her sister, Susan Privette (Ricky), her nephew, Zachary Privette (Tori), and great-nephew, Zane Privette; Uncle Dennis Karriker, Uncle Charles Murdock (Brenda), and numerous cousins, who held a special place in her heart..
Sherry's kindness and selflessness were evident throughout her life. After her passing, she continued to give the gift of life by becoming an organ donor, bringing hope and healing to a family in need. Sherry will always be remembered for her unwavering dedication to the well-being of others.
A graduate of South Iredell High School in 1984, Sherry pursued her passion for cosmetology at Mitchell Community College. However, her most significant role was that of a devoted full-time caretaker for her son Noah, who has special needs. Her boundless love and self-sacrifice created a foundation of strength for her family.
A memorial service to celebrate Sherry's life will be held on December 8, 2023, at Troutman Funeral Home at 1 p.m. The family will receive guests one hour prior to the service.
In lieu of flowers, the family kindly requests that donations be made to Chesterfield Group Home (the care organization for her son Noah) and St. Jude's Children's Hospital, reflecting Sherry's spirit of compassion and generosity.
As we say our goodbyes, let us remember Sherry as the caring soul who touched the lives of all who knew her. May she find eternal peace in the loving arms of Jesus.
Troutman Funeral Home is serving the family.