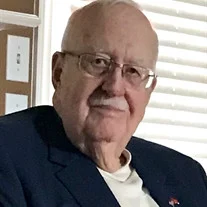 S. Howard Pittard, 82, of Mooresville, N.C., and formerly of Elizabeth, Pa., passed away on Monday, July 10, 2023, at Novant Health Huntersville Medical Center.
A Marine veteran, he retired as the founder and CEO for East Texas Coatings in Nash, Texas, and was a lifetime Mason through the Grand Lodge of Pennsylvania. Born November 28, 1940, in McKeesport, he was a son of the late Howard Wilson and Ida (Breckenridge) Pittard.
He is survived by his wife, Virginia "Gin" Blake; sons, Raymond D. (Rhonda) Pittard of Johns Island, S.C. and Robb E. Pittard of Mooresville, N.C.; daughter, Lori (Todd) Price of Monroe, N.C.; grandchildren, Lauren (Sean) Murphy of Kansas City, Lindsey Dissinger of Bozeman, Mont., Ethan Dissinger of Belgrade, Mont., Aiden Price of Monroe, N.C., and Grayson Price of Monroe, N.C.; great-grandchildren, Graham and Madeline Murphy; also, nieces and nephews.
In addition to his parents, he was preceded in death by his first wife, Donna C. Pittard; sister, Patricia Ermold, and brother, Tom Pittard.
No visitation is planned. A funeral service will take place on Monday, July 17, 2023, at 10 a.m. in Round Hill Cemetery Chapel with Pastor David Morrison officiating. Burial will follow. Memorial contributions may be made to Toys for Tots at https://toysfortots.org/donate/forms/tribute/Default.aspx.
Arrangements by the Paul E. Bekavac Funeral Home, Elizabeth, Pa.. and Cavin-Cook Funeral Home, Mooresville, N.C.