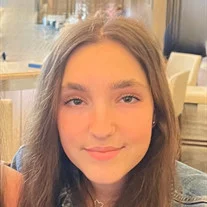 Stella Grace Bright, lovingly known as "Stell-Bell," was an extraordinary and vibrant 16-year-old. Although she tragically passed away in a car accident on September 9, 2023, her beautiful spirit continues to shine brightly. Born on September 7, 2007, in Annapolis, Md., Stella shared an incredible bond with her identical twin sister, Olivia, throughout their cherished 16 years together.
Stella had the opportunity to experience life in various states, including Maryland, Iowa, Washington, and North Carolina. Currently residing in Mooresville, N.C., she attended Lake Norman High School. She was adored by everyone who knew her, as her warm and kind-hearted nature made her a beloved friend among her peers.
Living life to the fullest was Stella's way of embracing every moment. She had a passion and talent for cooking. In addition, she had a profound love for art and creativity. Drawing and painting were among her favorite pastimes, and she aspired to become an Interior Designer or Architect in the future. Stella also discovered joy in staying active and listening to music, finding comfort and happiness in both. Being outdoors brought her immense joy, whether she was swimming in the pool, going on a bike ride, or enjoying the lake with her best friends. Creating lasting memories through quality time spent with loved ones, playing games, watching movies, and simply being together were incredibly important to Stella.
Stella had an amazing presence that brightened every room she entered. Her infectious smile, sense of humor, and warm heart endeared her to all who had the pleasure of knowing her. Stella had a remarkable ability to connect with others, leaving a lasting impact on every person she encountered. Her soul was truly one of a kind, spreading kindness and grace that touched the hearts of those around her. Stella's memory will forever be treasured, and she leaves behind a profound legacy of love and compassion.
Stella was preceded in death by her grandfather, Ronald E. Bright, who died in 2020.
She is survived by her sister Olivia, as well as her loving parents, Chris and Teresa. She is lso survived by her grandfather, William H. Schur; her grandmother, Linda J. Schur; her grandmother, Aldene Loe; her grandmother, Dorine K. Bright; her grandfather, Alton L. Loe; her aunt, Tammy A. Schur-Hulstrom; her uncle, Kippy D. Giancanteri; her aunt, Laura K. Rosner; and her uncle, Adam B. Rosner.
On Sunday, September 17, 2023, at 2 p.m. Stella's family and friends will gather at Williamson's Chapel UMC Church to celebrate her life. It will be a time to honor her memory and share stories that reflect the remarkable person she was.
As a tribute to Stella's beautiful spirit, memorial donations can be made to "Star Bright Creatives" in lieu of flowers. This act of kindness will help carry forward the essence of her loving nature and make a positive impact in her memory. Visit https://www.canva.com/design/DAFuQzyyHbg/cMZy5hosk_QocVA4f4OIxA/view?website#4:star-bright-creatives-donation-link.
Cavin-Cook Funeral Home, Mooresville, is serving the Bright family. Condolences may be made to the family at www.cavin-cook.com.