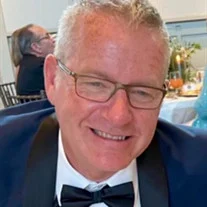 Stephen Christopher Williams, 57, passed away on Monday morning, March 27, 2023, thirteen days after he had been hospitalized in Charlotte, N.C., following a massive stroke. For many years before the stroke he had atrial fibrillation.
Stephen was born in Clarksburg, W.Va., the youngest of three sons of Willis (Bill) and Janet (Jan) Williams of Indian Harbour Beach, Fla. He is survived by his parents and brothers, Bradley Williams and wife Alice of Indialantic, Fla., and Barry Williams and wife Sharon of Mooresville, N.C.
Stephen grew up in Clarksburg and Salem, W.Va., and for four years in Horseheads, N.Y. He was a graduate of Clarksburg Liberty High School and earned his Bachelor of Arts at West Virginia University, where he was a member of Phi Kappa Psi fraternity. Before enrolling at West Virginia University, Stephen spent a year as a Rotary exchange student in Hedemora, Sweden. While there, he traveled extensively throughout Europe. He continued his love of travel for the rest of his life. An avid tennis player, he competed in local tournaments and in several USTA events. His professional career was in the hospitality field, and he held several management positions with Marriott, Hilton and other hotel organizations.
Stephen also spent most of his adult life supporting local greyhound rescue organizations, adopting several dogs during that time.
Stephen was a Presbyterian by faith and, as a seventh-grader, he was confirmed at Clarksburg First Presbyterian Church.
The world is a little less joyful without Stephen, but he will remain in the hearts of all who knew him and they smile at the memory.
No services are planned at this time. Stephen's family suggests donations to any greyhound rescue organization, in honor and in memory of Stephen, would be appropriate.
Cavin-Cook Funeral Home is serving the family.