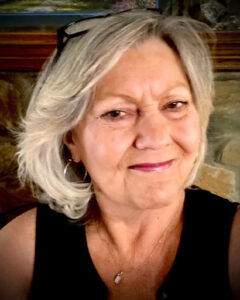 With heavy hearts, we announce the passing of Tammy Faye Lambert, a remarkable woman who touched the lives of everyone she met. Tammy, a beloved resident of Harmony, N.C., departed this world on September 22, 2023, at the age of 59, leaving behind a legacy of love, laughter, and cherished memories.
Tammy was born October 1, 1963, in Statesville, N.C., at Davis Hospital and attended school in Iredell County. She then pursued cosmetology and earned herself a reputation as one of the best hairdressers around, leaving a trail of satisfied clients who admired her talents and genuine friendship. She was a legendary youth ministry leader, leaving a lasting mark on many young souls and traditions that live on to this day. She was a woman of unwavering faith who loved Jesus, was a loving wife, a caring mother, and a cherished bonus mom who embraced her family with open arms.
She was "Mamaw" and "Gam Tam" who found immeasurable joy in the presence of her grandchildren. She eagerly shared her love of life, crafting, and dance with them, creating precious memories that will be treasured for generations to come.
Second only to her love for the Lord was her love for her husband to whom she had been married for 36 years. Tony held her heart, and their love and adoration for one another was a testament to the power of a deep and enduring connection. Their bond was a source of inspiration to all who knew them, a reminder that true love can weather any storm.
She was a daughter, a sister, an aunt, and a friend. She had a playful spirit and a giving heart, and she loved deeply. She was many things to many people, and her presence in our lives will be profoundly missed.
She loved her animals nearly as much as her people and her home was a sanctuary for creatures and plants of all kinds. Her Christmas candy was a holiday tradition that brought joy to the hearts of all who received it, a symbol of her love and thoughtfulness. Her baking skills were legendary, and her treats were as sweet as her spirit.
Tammy often described herself as "God's Favorite" because of the many blessings she had received. Her determination and resilience in the face of life's challenges, such as her battle with MS, inspired all who knew her. Her giving heart knew no bounds, and she took great joy in doing for others. Her silliness and zest for life were contagious, reminding us all to find joy in the every day and never to take ourselves too seriously.
In her own right, Tammy was the queen of her world, ruling with grace, humility, and a touch of spunk that was uniquely her own. She will forever be remembered for her loving nature, fighting spirit, and fierce determination. Her personality was infectious.
Tammy leaves behind a world that is richer for having known her. Here to cherish her memories are her husband, Tony Lambert; her daughter Beth Thompson (Shane); her son Matthew Lambert (Amber) and their children Gabriel, Levi, Selah, Isaiah, Judah, and Rachel; a "bonus" daughter and granddaughter, Savannah Clifton and Addilynn Coleman; two step-daughters, Amy (Matt) Boone and Amanda Lambert; numerous step-grandchildren and great grandchildren; and numerous others.
While we grieve her loss, we celebrate the beautiful tapestry of her life and the love she shared with us all. In her memory, let us carry forward her legacy of love, laughter, and kindness, and may we find comfort in the knowledge that she is now at peace, dancing in Heaven.
A service will be held in the chapel of Nicholson Funeral Home on Thursday, September 28, at 2 p.m. followed by a graveside service at Harmony Cemetery. A celebration of Tammy's life will be held immediately after the services at Harmony Community Center, where friends and family will come together to honor the remarkable woman who brought so much love and joy into our lives.
Rest in peace, dear Tammy, knowing that you were the joy of our lives and will forever be in our hearts.
Nicholson Funeral Home is honored to serve the Lambert family.