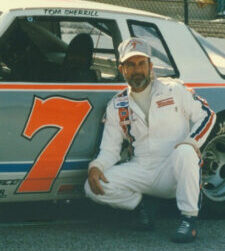 Mr. Tom Sherrill of Aiken, S.C., entered into rest on September 23, 2023, surrounded by loved ones. Tom was born September 5, 1940 at Statesville, N.C., to the late Otis and Gladys Pope Sherrill. He lived a long, faithful, successful and joyous 83 years, married 51 of those years to his love, Anne Kearney Walton.
Tom graduated from Troutman High School in 1957 and soon began the first of his three 20-year careers when he enlisted in the United States Air Force. He served two tours of duty in Vietnam, where he learned computer programming. The mastering of this skill would eventually lead to his second career, where he operated mainframe computers for Duke Power of North Carolina. While there, he was an integral part of the Y2K changeover on their computer system. Lastly, Tom drove an eighteen-wheeler. This was his favorite job, one he had dreamed of since boyhood. He traveled the East Coast driving for several big trucking lines.
Tom was an avid fan of stock car racing. His love for cars led him to the speedway. He enjoyed years driving with the Hooters Racing Team. In the mid-1990's he drove his No. 7 car in the ARCA Supercar Series. He and his wife Anne had their own team named A&T racing. He drove countless laps at the Charlotte Motor Speedway and other tracks throughout the Southeast. He hung up his jumpsuit in the late 1990s but enjoyed watching racing for the rest of his life.
Tom is survived by his wife Anne; his siblings, Mac (Peggy) Sherrill, Ronnie Sherrill, Patricia "Patti" Sloan, Wesley (Terrie) Sherrill, and Crystal (Earl) Hendrix; three children and their spouses, eight grandchildren, eleven great grandchildren, two great great grandchildren, numerous nieces, nephews, cousins, and cherished friends.
Nicholson Funeral Home is serving the family.