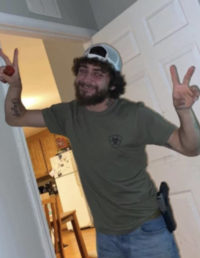 Timothy "Tim" John Craig Campbell Sr., 24, of Statesville, N.C., passed away on Thursday, February 23, 2023.
Timmy was born on October 24, 1998, in Columbia, S.C., to parents, Sammy Craig Campbell and Jessica Erin West Lambert (Sean Travis Lambert), who survive. He attended West Iredell High School and worked at Precision Lawn Care and Mid-South Drilling. Tim loved fishing and dearly loved his family.
Tim was preceded in death by his maternal grandfather, Tommy West Sr.; paternal grandparents, Gilbert Campbell (Hazel); brother, Sammy Craig Campbell Jr.; paternal step-grandmother, Evon Cook Lambert; maternal step-grandfather, Jim Miller; and his infant twins.
In addition to his parents, those left to cherish Tim's memory include his wife, Kellie Ann Osborne Campbell; daughters, Jazmyn West and Beckaleigh Davis; sons, Timothy John "TJ" Craig Campbell Jr. and Atticus Holland; and siblings, Destine Campbell (Ramen), Chandler Campbell (Mivkab), McKinzee Lambert, Travis Lambert, Hunter Lambert, Justin Lambert and Eric Shawn Campbell. Also surviving are numerous nieces and nephews; mother-in-law, Becky Lambert; sister-in-law, Jessica Osborne (Duke); and brother-in-law, Justin Osborne (Izzy).
A visitation will be held Tuesday, February 28, 2023, from 1 to 2 p.m. at Command Baptist Church. Funeral service will follow at 2 p.m. with Rev. Scott Whitman and Rev. Tony Fox officiating. Burial will take place in the church cemetery.
In lieu of flowers, memorials may be made to Troutman Funeral Home for funeral expenses.
Troutman Funeral Home is serving the family.