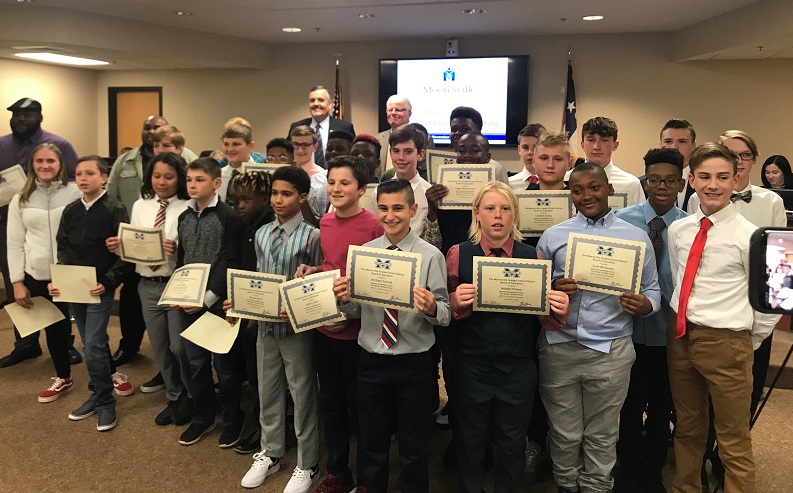 The undefeated Mooresville Middle School Red Imps football team poses for a photo at Tuesday's Mooresville Graded Schools Board of Education meeting.
BY MIKE FUHRMAN
Scott Van Pelt often leads off SportsCenter with a feature dubbed the "Best Thing I Saw Today."
The segments are often related to a pivotal moment in the day's biggest sports event — a late-inning homerun that helps win a World Series, a long putt that drops in the cup on the 18th hole to win a major championship in golf, or a miracle three-pointer that sends an NCAA tournament game to overtime.
Borrowing from SVP, I'd like to weigh in on the best thing I saw this week. It happened at a Mooresville Graded School District School Board meeting and had nothing — and everything — to do with sports.
Superintendent Stephen Mauney and the MGSD board regularly set aside time to honor students for their academic, artistic and athletic achievements. District employees are also recognized in public for their efforts.
Tuesday's meeting was no different.
Among the honorees was the Mooresville Middle School seventh-grade football team. Under the leadership of beloved head coach Jason Chambers, the Red Imps had an undefeated season this fall, scoring more than 100 points while allowing their opponents a meager 14 all year.
Throughout my career as a community journalist, I've been to countless school board and local government meetings in which science fair winners, all-state band members and championship winning teams were herded through the meetings, quickly arranged for a picture and sent on their way. Rarely do these photo ops seem worth the time and effort required of parents and students.
Tuesday's MGSD Board meeting could have been one of those occasions, but Superintendent Mauney had other plans for the Red Imps. Inspired by seeing the NFL players on Monday Night Football introduce themselves and plug their colleges or high schools, he thought it would be special to have each player step up to the mic, introduce themselves, and state the position they play and where they wanted to go to college.
Here's the video:
It may have added a few minutes to the meeting, but it was a moment in time that the boys — and one girl — on the team and their parents will probably remember for a long time.
It was definitely the best thing I saw this week.
Mike Fuhrman is editor of Iredell Free News, an over-involved soccer dad and an Atlanta Braves fan. Contact him at iredellfreenews@gmail.com