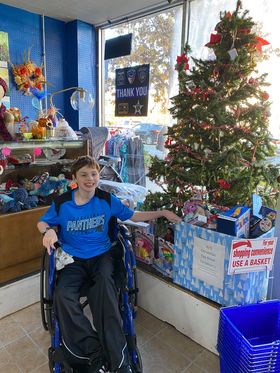 BY FRANCIE HARTSOG
This past year has been one we will never forget. I can't remember another time in my life coming close to the chaos we have lived through. Even now, the future is uncertain and we know it may remain uncertain for a long time. Yet we have survived. We fall and we get up. If a neighbor is in need, we help. Determination to survive and the resolve to never stop trying is part of our Southern culture and heritage.
Christmas is coming and most of us are making plans to celebrate, even though the holidays will be different. Our country has faced so much loss during the 2020 pandemic. Whether it has been a job loss or the death of a family member, so many of us are weary. Healthcare workers are exhausted, and those who have stayed sheltered feel isolated and alone. Many people have no idea how they will pay rent or if they will have food on the table come December 25. The thought of a child not having a gift from Santa is unthinkable, at least for me. If there ever was a time to give, it is now.
One of the best traits of Southern people is love for our neighbors. I haven't met a stranger since moving to Statesville. When you walk down the street people will greet you warmly. A friend of mine from New York City said, "When I moved here people were talking to me in the grocery store line and saying hello on the street. It scared me! Where I come from, you keep your head down. It was a culture shock!"
I met Michael and Jammie Fogle the week before Thanksgiving when a friend told me the owners of a new store wanted to do a toy drive for Christmas. I had been looking for a way to be more involved in the community, but with COVID-19 I didn't know where to start. I am grateful to my friend, Valerie, for sending me to visit the Fogle family.
Michael and Jammie seemed like friends almost immediately after I entered "AJ's Heavenly Discount," and I enjoyed chatting with them so much I stayed over an hour. I was lucky to meet the Fogles' business partner, Claude Webb, also known as "Uncle Claude." I found Claude to be compassionate, wise, and a little mischievous. Claude pretends to be ornery, but I know better. I later learned both Claude and Michael served our country in the Army and are veterans. Jammie explained Claude was like family, and she told me about Anthony James (AJ) and their other four kids. The five Fogle children range in age from 11 to 18.
"All of the children are part of the business in some way," Jammie said.
I got to meet the youngest Fogle, Chris, who is as charming as his older brother, AJ.
The joy of brightening other lives, bearing each others' burdens, easing other's loads and supplanting empty hearts and lives with generous gifts becomes for us the magic of Christmas.
Meeting AJ was such a treat. We became fast friends and I remain enchanted with him. I have a feeling he has the same effect on everyone he meets. The 16-year-old young man is a junior at West Iredell High School. In June 2016, AJ was in a drowning accident. Jammie explained the family had just moved to Statesville and didn't know many people. The family has lived in many different places during the time Michael served in the military.
"When the accident happened we didn't know anyone in this town. AJ was treated at Wake Forest from June to July and then at Levine Children's Hospital from July to September. I stayed with AJ, and Michael would drive back to the house to check the mail and feed the dogs. We couldn't believe the outpouring of love from a community who didn't even know us. People left notes, food, and gift cards. Now we want to give back to the people who were there for us."
"Is AJ here?" I asked. "May I meet him?"
"Of course!" Jammie said, and Michael went to get him.
Jammie told me that AJ can no longer walk, talk, or eat as a result of the accident. But he understands everything! It didn't take long for me to comprehend what she meant.
The first thing I noticed about AJ was his contagious smile. I knew almost immediately that "this young man has a plan!"
Michael smiled and confessed both he and AJ planned to dress up as Santa and volunteered Claude to be an elf. Claude didn't seem convinced, but I had a feeling he would be a good sport. AJ's eyes already twinkle like Santa, and his grin is the complete package. "Where do I sign up? I asked. "I make a cute elf!"
The truth is that AJ had me at hello.
Anthony James stayed a few minutes joking with us and then did what any typical teenager would do. He ditched the adults to get back to gaming. The love in the Fogle family is touching. This family is joyful! The truth is that most people never reach the level of happiness this family radiates. It doesn't matter how much money you have — love is not for sale. It's free.
Michael showed me around the store and explained how the store was set up to be able to give back to the community. Everything in AJ's Heavenly Discount is new, and is priced at 50 percent below retail. Naturally, I wanted to shop. I bought a mirror from Bed, Bath & Beyond for $35. It was still in the original packaging and the tag was marked $85. Score!
The Fogles and Claude are working with Iredell County Sheriff's Office Captain Matt Burleyson on the toy drive, which will be held at the Sheriff's Office. AJ's Heavenly Discount is taking donations Tuesday – Friday from 10 a.m. to 6 p.m. and on Saturdays from 10 a.m. to 4 p.m. Toys can also be dropped off at the Sheriff's Office. Due to COVID-19, no clothes or stuffed animals will be accepted. The age range for toy donations is toddler to preteen.
It was time to say goodbye, but I had one more question. I asked Michael how they came up with the store's name, "A.J.'s Heavenly Discount?" The Father of this incredible family said, "When your child dies five times and lives, we think that's pretty heavenly."
I could not agree more.
LEARN MORE
For more information, contact AJ's Heavenly Discount at (704) 380-4327) AJ's is located at 106 S. Center Street, Statesville. Check out their Facebook Page at https://www.facebook.com/ajsheavenlydiscount
You may also contact the Sheriff's Office at (704-878-3000) or make donations at 230 North Tradd Street, Statesville. Check out their Facebook Page at https://www.facebook.com/co.iredell.nc.us
Francie Hartsog is the author of the Living Southern with Francie blog.