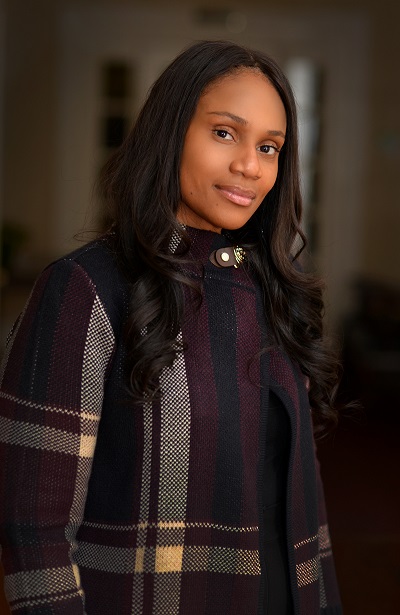 EDITOR'S NOTE: LaToya Caesar delivered a slightly abridged version of this speech on Friday evening during the Martin Luther King Jr. Celebration at Mitchell Community College.
BY LaTOYA CAESAR
It's always surreal and humbling to hear someone read your biography. The irony is that I have learned my greatest lessons through the moments in between the lines of the biography. In the end, I'm just a little girl from Brooklyn who was blessed to have people believe in her along the way. Thank you Dr. Brewer and the amazing faculty, staff and all those behind the scenes for this service and allowing me to be here.
This weekend, all across this country, and the certain parts of the world, the legacy of Reverend Dr. Martin Luther King will be lifted up, reflected upon, celebrated and memorialized. You will hear tributes and powerful words rendered forth about a man, born January 15, 1929, in Atlanta, Georgia, to parents Martin Luther King Sr. and Alberta Williams King in a post Civil War era. A man whose life's work, influenced by the dreams of his own parents, would be dedicated to walking with God, preaching the Gospel, and ultimately becoming known as one of the greatest and most prolific freedom fighters of his time. In a time in America where he could have chosen to remain silent in the face of injustices towards his fellow members of humanity, he chose not only to lead a movement that would change the course of history, but he chose to do so non-violently. Using the power of a "dream" to diffuse the powers of "division".
In the spirit of Dr. King's evangelical legacy, and in connecting with my own upbringing in the Pentecostal church, I'm going to ask you, every now and then, to engage in some good old fashioned call and response.
Here's the first one: Look at your neighbor and say "A Dream."
Most of us have, in our lifetimes, heard the words of Martin Luther King, either in snippets of a speech, or in a reference provided, or in our own studies. Some of us in this room are old enough to remember the life of Dr. King because we either lived during the Civil Rights Movement or in the Post-Civil Rights period directly thereafter. His most famous oratory gift to this world, many would argue, came in the form of the speech, "I Have a Dream," delivered during the March on Washington for Jobs and Freedom on August 28, 1963, in which he called for civil and economic rights and an end to racism in the United States. Delivered to over 250,000 civil rights supporters from the steps of the Lincoln Memorial in Washington, D.C., the speech was a defining moment of the civil rights movement and among the most iconic speeches in American history.
While that speech is often the moment in time that Dr. King is often remembered for, referenced oftentimes to honor him in almost super heroic terms, I would like to ask humbly for an opportunity to quickly highlight the moments that led to that speech and to posit, that while Dr. King had a dream, he was also the sum of someone else's dream.
Look at you neighbor and say, "He was someone else's dream too."
In 1955, Dr. King led what would eventually become a 385-day boycott against the Montgomery, Alabama bus company, after a woman named Rosa Parks was arrested for refusing to give her seat to a White man per Jim Crow law in a racially segregated Alabama. That boycott resulted in a District Court ruling that would be one of many in helping to end racial segregation not just in Alabama, but across many states in the journey towards the end of legal segregation in this country.
In 1957, as the head of the Southern Christian Leadership Conference, a group created to champion for civil rights through non-violent protests across the country, Dr. King would go on to become one of the most famous leaders and organizers of the civil rights movement to include the fight for voting rights, labor rights, and desegregation. His fight and of so many other dreamers resulted in the Civil Rights Act of 1964 and the 1965 Voting Rights Act.
Dr. King's life and legacy is well documented, well spoken of, and has served as inspiration for many civil rights leaders that would succeed him and dedicate their lives to ensuring freedom, justice, equality, access, and opportunity for all.
It's interesting though … because when I think of Dr. King, I cannot help but think about not just the dream he had for this nation, but the dreams he had for his own children. I think of Martin, the man, and the father. It is my humble opinion that nothing serves as a greater uniter, a place of common ground, a place of understanding, than the love of a child or children. Parents understand it well, but even those who have not experienced parenthood in the biological sense, can understand what it means to want to help a child, to see a child filled with dreams and want to help them achieve it. His children — maybe it's the parent in me, but as a child, I remember images of his funeral. His wife Coretta, at his funeral, stoically adorned in black from head to toe, her children clinging to her as though trying to understand a world that to them, had taken away their father.
Maybe it's the educator in me. But I think about what it must have been like for them to return to school the weeks after their father was killed, go back learn about American History, when their father had just become a part of it.
Maybe it's the daughter in me, as I myself am the child of two parents that migrated here from the island nation of Trinidad and Tobago, West Indies at the tender ages of 17 and 18, respectively, the very same year that Dr. King was killed. Emboldened by the prospect of providing a better life for their children one day, my two-year-old brother, already in tow. All they had was the "dream" of being able to see their children live out the hopes they have always had for themselves. I remember the stories that my own father told … but finding tremendous pride in being able to work as one of the first persons of color as an Electrical Engineer for the largest energy company in New York City.
A dream.
I am the first person in my family born on American Soil. The first to graduate with any post secondary degree. And when I told my father that I would be making this speech today, he said, "I knew you would always make me proud, you're a Caesar."
A dream.
So, I think about the dreams he had for his children. The world he wanted them to grow up in. And I imagine that the impetus for his most famous speech was rooted in his deepest desire to see his own children be able to live in a world where they were truly able to live out their own dreams.
I wonder what life would have been like if he would have been able to live until the old age of 90, able to sit on a big porch with his children and grandchildren — able to see who they had become and to reflect on the world that we have become in 2019. I can imagine one of his brilliant grandchildren pulling up his famous speech on Youtube and asking him, "Grandpa, do you still have a dream?"
I wonder, if Martin had been able to conduct "A Dream In Review" with his children, what that conversation would sound like.
Look at your neighbor and say "A Dream, In Review."
The question is, how much better is the world today in fostering the dreams of our children? How much closer are we to having achieved the dream this great man lived and ultimately died for?
"I have a dream that my four little children will one day live in a nation where they will not be judged by the color of their skin but by the content of their character. I have a dream today."
Well, how much progress have we made?
Truth is — there's good news. And let's just say that there is still great, significant, vast room for growth.
If we look at the journey a child will take from conception to career, it reiterates how more opportunity remains.
The good news:
♦ Lots of babies are being born every year, bringing with them the promise of the many gifts and dreams they will contribute to our world. According to the CDC, 3.7 million babies were born in the year
2018.
The opportunity to fulfill the dream:
♦ Race and socioeconomic status remain the greatest drivers in disparity of birth outcomes and maternal mortality in this nation.
The good news:
♦ Lots of children are being provided access to an early education in the form of Pre-K, to the tune of 1.5 million children in 2018.
The opportunity to fulfill the dream:
♦ A child's zip code, the neighborhood in which they were born, is still a predictor as to how prepared a child will be upon entering the public education system starting in kindergarten.
The good news:
♦ In a post-integration era, more than 56 million children attended schools in 2019, and by law, were provided the opportunity to attend school irrespective of their race and socioeconomic status.
The opportunity to fulfill the dream:
♦ Of that same 56 million, if you were a child of color, you were three times more likely to be referred to a special education designation before grade 3, and four times more likely to have experienced an out of school suspension by grade 4.
The implications are this are very serious, as the research shows more suspension means more likelihood of interaction with the justice system.
The good news:
♦ The national college graduation rate is 84 percent
The opportunity:
♦ Of that 84 percent, only half of that amount accounts for children of color.
The good news:
♦ As a democratic nation, our branches of government continue to make great strides in ensuring that it represents our beautiful and diverse population, as the House of Representatives now has a record-breaking 9.5 percent of members that are of diverse demographic origin.
The opportunity:
♦ A child of color or low socioeconomic status is far less likely to visit the White House, or the Senate, or the House than they are to be introduced to the justice system through disproportionate rates of incarceration.
I could walk you through the journey beyond college for millions of children in this nation.
As we explore the landscape of our modern society and the trajectory of a child's life through the lens of Dr. King's dream, and we look at each sector, our justice system, our public and higher education system, the income gap, the ability to accumulate wealth, the ability to own a home, the ability to receive appropriate health care and live a long life — the ability to truly live side by side with the quality of life we all want for our children.
The dream — a world filled with opportunity. The truth is that the color of the skin that you were genetically assigned and the place where you grew up is still a predictor of the major outcomes of your life.
Here's the other truth though — it doesn't have to be that way. And it is costing us as a nation.
Imagine if the dream of Dr. King came to complete fullness and fruition. Imagine a world where irrespective of external factors, you could soar to the highest heights in this life. Imagine a world where every child has a champion willing to step out of their own comfort and privilege in order to help them achieve their dreams. Imagine a world where, for the sake of our children, we were willing to disrupt systems and to speak up when instances of inequality occurred before us. Imagine if each of us used the platform that we've been given in life not just to enjoy the amenities it comes with, but to encourage the achievements of another. Imagine a world where we were all brave enough to reflect on our own inner biases and have honest conversations with each other about our fears, about the stereotypes we still carry.
Imagine if each adult took the time to walk across the bridges in their lives over to the other side to learn more, to help more, and intentionally seek out someone different so we could learn about what unites us.
For every child that loses an opportunity to access a great future, we lose the chance for our children to gain a greater education through the learning of diverse backgrounds.
We lose the next Van Gogh, the next Einstein, the next Martin, the Botecelli, the next Buffett, or Gates, or Zuckerberg.
So what is the charge?
Well, my work as an equity champion thus far has taught me a few things that we can all do to help make Martin's dream come true:
♦ We can stop saying that we want every child to have a chance at their very best lives, and reflect on whether we truly mean it.
♦ We can make an intentional effort to get to know someone who does not look like us, talk like us, or come from our walk of life, and ask them to share their story.
♦ We can volunteer to become a bridge for a child that lives on the other side of our own life's path.
♦ We can remember this quote "We All Bleed The Same" by Mandisa
We all bleed the same
We're more beautiful when we come together
We all bleed the same
So tell me why, tell me why
We're divided
If we're gonna fight
Let's fight for each other
If we're gonna shout
Let love be the cry
We all bleed the same
So tell me why, tell me why
We're divided
Tell me, who are we
To judge someone
By the kind of clothes they're wearing
Or the color of their skin?
Are you black? (black)
Are you white? (white)
Aren't we all the same inside? (the same inside)
Father, open our eyes to see!
We all bleed the same (we all bleed the same)
We're more beautiful when we come together
We all bleed the same (we all bleed the same)
So tell me why, tell me why
We're divided
If we're gonna fight
Let's fight for each other (fight for each other!)
If we're gonna shout
Let love be the cry (be the cry!)
Let love be the cry!!!!
LaToya Caesar is the district liaison for community engagement for Iredell-Statesville Schools. She has devoted her professional life to being an agent of change with a focus on systems leadership that advances equity and opportunity for all children.