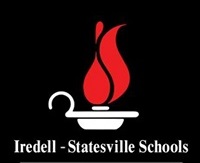 BY MIKE FUHRMAN
Incoming Iredell-Statesville Schools Superintendent Jeff James' academic credentials are solid, his success as an administrator well-documented, and his professional references are impressive.
But the optics for the I-SS Board of Education – following its decision to hire James as the district's next superintendent – are not quite as stellar.
Hours after the announcement that James had agreed to a four-year contract with a starting salary of $162,000, the integrity of I-SS board Chairman Martin Page and the board's search efforts came under fire.
"The fix was in from the start," Statesville resident Dustin McCrary wrote on Facebook. "Martin Page got his yes man and ran off 80 years of experience in I-SS to hire his puppet."
The school board decided in October not to offer a contract extension to Superintendent Brady Johnson, a former N.C. Superintendent of the Year who has worked for the district for more than 40 years. Deputy Superintendent Melanie Taylor immediately announced her plan to retire in February, citing her frustrations with the increasing role of politics in the daily operations of I-SS.
While McCrary was the first person to publicly criticize the process that led to James' appointment, the assertion that the board chairman and other board members had their sights set on the Stanly County Schools superintendent from the beginning of the search process have been circulating since Johnson's departure was announced.
"From elected officials down to citizens like me, we all knew that Martin had pinpointed his yes man to be the next superintendent," McCrary said over the weekend. "No one could do anything to stop it. I am confidant that the fix was in from the start. Martin wanted his yes man and he got it. He should be held accountable for years to come for this hire and the trickle-down effect on I-SS.
"There is a groundswell of concern for the future of I-SS," he added.
Reached on Saturday, the school board chairman defended the board's work. "I think the search was very open and thorough," Page said. "I thought Sam Kennington did an excellent job of running the process. We had a good pool and the process worked."
Page discounted the rumblings he heard over the months leading up to Friday's announcements – including talk that he and James were close friends. They worked together as teachers at Statesville and Lake Norman high schools, he said, but that was the extent of their relationship.
"People are going to say what they want," Page said. "The board was well aware of what people put out there. I didn't let it affect me.
"When you choose someone you know, it's going to be controversial," the chairman said, adding that he knew "many" of the applicants.
McCrary, he said, has been a vocal critic of the school board since he was bypassed for an appointment to fill an open seat created by board member Cindy Haynes' resignation in 2018. The board instead selected Kennington for that seat.
In response, McCrary said his criticism stems from the direction the board has taken since the N.C. General Assembly approved partisan school board elections for Iredell-Statesville Schools.
Page said he has been gratified by the response to James' hiring that he has seen from the community.
"It's been overwhelmingly positive," he said, adding that many district employees who worked with James at Statesville, Lake Norman and South Iredell high schools, as well as Troutman Middle School, have applauded the hire. "You don't get much more endorsement than that."
'He's been the best superintendent this county has seen in my lifetime'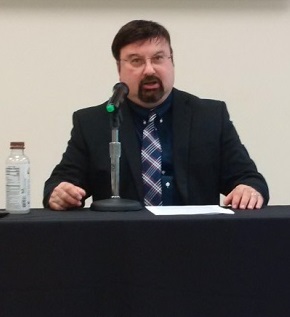 James has been the superintendent of Stanly County Schools for two years. Before that he was an assistant superintendent with Montgomery County Schools.
Those who have worked closely with him in Stanly County are effusive with their praise of his work and his character.
This is what Stanly County School Board Vice Chairman Ryan Mcintyre had to say about James:
"Nobody understands just how hard this man works, or can comprehend the vast amount of knowledge that he has when it comes to education, whether that be state law, educational finance rules, curriculum, HR matters, securing of grants, etc. Not only that, he's never backed down from any stakeholder, commissioner, state rep, speaker, or even the governor when it comes to advocating for his students. Hands down, he's been the best superintendent this county has seen in my lifetime and it's sad that I have to see him leave."
Hope Miller-Drye, assistant to the Stanly County board and administrators, described James as a true asset to the county and someone who sought to lead that district reach new heights.
"While I am sure he would give credit to all those in the system, the fact of the matter is many positive things happened on his watch. Increased program offerings, increased growth in school scores, and expansion of grants to the system just to name a few. He has been fully engaged in our community in a very positive way. "He has been the most knowledgeable on public education issues of any superintendent I have been associated with, in my 22 years of service on the local board," she added.
Before he left for the Montgomery County position, while James was principal at Troutman Middle School, the school was named an N.C. School of Distinction multiple times and was recognized by the N.C. Department of Public Instruction as one of the "Top 25 Most Improved Schools" in the state.
His academic credentials are also impressive. James earned an MBA (1992) and M.A.in Special Education (2005) from the University of North Carolina at Charlotte, an MSA in School Administration from Gardner-Webb University (2008), and his EdD in Educational Leadership and Cultural Foundations (2013) from the University of North Carolina at Greensboro. He earned his Superintendent's License from Appalachian State University in 2009.
Questions about the search process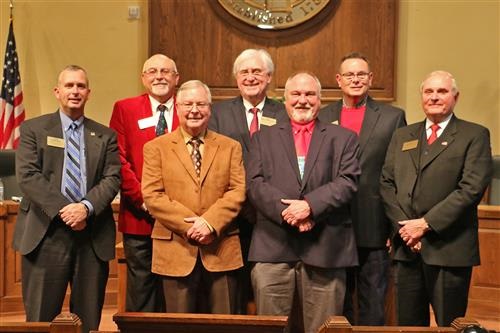 Within a couple of weeks of the board's decision not to extend Superintendent Johnson's contract, several people who work in different capacities for I-SS approached me in separate settings to let me know that they knew who the next superintendent would be. The name that followed was always the same: Jeff James.
No one would go on the record, of course. Doing so would jeopardize their jobs, they said.
So I wasn't surprised when those prognostications about the inevitability of James' hiring proved prescient. In fact, I was so confident that James would be hired that I wrote most of the story announcing his appointment the night before the announcement was made.
All of this raises legitimate questions: Did the other applicants – particularly the internal candidates who have devoted years to the district — get a fair shake? Was the school board's "nationwide" search to find Johnson's successor legitimate? Was money the only reason the board did not seek professional assistance in the search?
Only the seven men chosen to serve on the board can answer those questions.
There's no question, however, that the search could have been more extensive, that the board could have cast a broader net to ensure it had the best possible pool of applicants. This is one of the most important positions in our community. Taxpayers and parents deserve a high degree of confidence that our school system is being run by the best of the best.
Despite being advised by local education advocates, parents and others to hire a national firm to conduct the search, the school board instead opted to handle the search itself. The cost of bringing in a search firm – which can run up to $50,000 — was clearly not worth the investment to some members.
Kennington, a retired high school principal, was selected by Page to chair the search committee. Other members took responsibility for parts of the search. For example, board member Todd Carver, who recently retired from the Iredell County Sheriff's Office conducted the background checks on the finalists.
The board consulted with the N.C. School Board Association and learned where to advertise the position.
"That's part of being a member," Page said. "You get a book on how to do this (from the Association). We advertised it everywhere it should have been advertised."
Those ads generated 12 completed applications and three incomplete ones, which were not considered. For a position that pays upwards of $160,000, that seems like a pretty shallow pool of candidates.
A little Internet research confirmed that recent openings for school superintendents in other attractive parts of the country attracted between 36 applicants (Daytona Beach, Fla.) and 84 applicants (Atlanta, Ga.) — with pools of 35 to 50 candidates appearing to be the norm. Among larger school districts searching for a leader, it appears only Metro Nashville received less than 20 applications — and it received 19.
When you engage a national search firm, you are doing more than just hiring someone to place ads on the website of the National Association of School Superintendents and other places where potential applicants are likely to see them. You are hiring a professional team with broad industrywide contacts and connections. These firms, often staffed by former superintendents, know where to find talented school administrators with skills and experience in districts that face similar challenges as I-SS. They know who is looking for a change of scenery or looking to tackle a new challenge.
K-12 Business Consulting Inc., a search firm based in Ohio, said the best candidates are not found through advertising channels.
"The higher quality candidates we will present to the Board are typically the result of networking and direct communication and not advertising," the firm said on its website.
Kennington, who devoted "endless hours" to the five-month effort, said he was committed to a process that was "above reproach" from the onset. "My name is attached to it, so I wanted it to be quality," he said.
The district spent about $3,000 to advertise the position and got candidates from New York, Colorado, California, Maryland, Virginia and North Carolina.
"That shows you right there — the word got out," Kennington said.
Among the 12 candidates, several stood out, including some with superintendent experience, he said.
After evaluating the entire applicant pool, the board "felt we had five outstanding applicants to interview," the search committee chairman explained.
After one applicant, a seated superintendent, withdrew from the process after being invited to interview, four finalists remained for in-person interviews, which were conducted by the board at Chairman Page's church over two days in March.
During the finalist interviews, board members asked all of the candidates the same questions, which the board developed using community input, Kennington said. The board members scored each candidates' responses as part of the selection process.
When all of the board members' scores were tabulated by school board attorney Costi Kutteh, James emerged as the top candidate. He was introduced as the next superintendent at the conclusion of an all-day chool board meeting on Friday, April 10.
Asked over the weekend, in hindsight, if he believed the recruitment process should have been modified to attract a larger field of applicants, Kennington defended his work and the board's.
"We had a timetable. We did what we said we were going to do," he said. "We met the goal to select what I thought was the best candidate. I'm not a person to look back. I know I did the very best I could do. I feel like the entire board did the best it could do, and it was an open process.
"I promise you from my heart that the process was done with the highest integrity," Kennington added.
Jeff James may turn out to be the best I-SS superintendent ever. For the sake of our children and the district's 2,000-plus employees, as well as the future of Iredell County, I hope that is the case.
I hope his experience, vision and leadership help the district close achievement gaps and identify and remedy the racial inequities in schools across our district. I hope he can convince the school board and county commissioners to increase the local supplement so we can recruit and retain highly qualified teachers for every classroom in every school in the district; and that he will impress upon the school board and county commissioners the importance of having a dedicated school resource officer on every campus.
The school board did not do James – or itself — any favors by conducting a low-budget, in-house search for Superintendent Johnson's replacement.
With rumors swirling from the beginning of the search – rumors the board was clearly aware of, the entire board made a decision not to engage a professional firm to conduct a national search. That certainly raises questions about the board's commitment to attracting the absolute best candidates.
Even if there had been 40 to 50 highly qualified applicants with impeccable credentials who articulated extraordinary visions for Iredell-Statesville Schools and its 20,000-plus students, James might still have emerged as the top candidate. Having a national firm's determination that he was among the top candidates in a deep, diverse pool would have helped the board avoid the criticism and questions it faces about the legitimacy of the search.
However, because the school board did not do more to attract a larger pool of highly qualified applicants, questions will hang over the new superintendent like a dark cloud. And rumors about the search and selection process will continue to dog this board.
That may not be fair to James. But that will be the reality when he reports to work on July 1.
Mike Fuhrman is the editor of Iredell Free News.