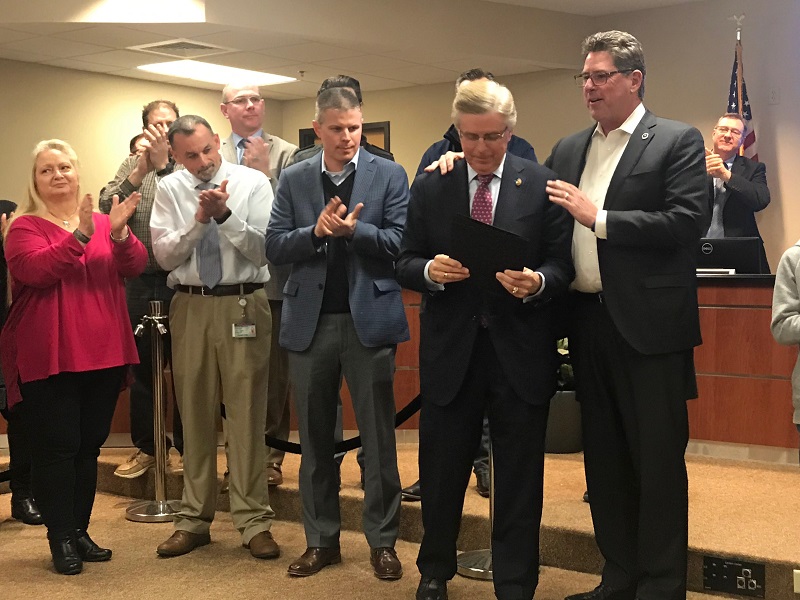 BY MIKE FUHRMAN
The best thing I saw last week was a community taking time to honor a man who has devoted 50 years of his life to helping families who have lost a loved one.
Mooresville Mayor Miles Atkins and town commissioners carved out time during Tuesday's meeting to recognize H. Mike Cook, the owner of Cavin-Cook Funeral Home, for his contributions to his industry and the town.
Cook, who began working part time for Cavin funeral home as a teenager, was recently honored as the 2019 Funeral Director of the Year by American Funeral Director Magazine, but he could not attend the award presentation due to a health issue.
During Tuesday's meeting, Mayor Atkins read a resolution about Cook, calling him "a tremendous citizen in our community," and describing his kindness, compassion and involvement in the community. Cook has been active in Rotary, the Masonic Lodge the museum board, and other civic groups, but he has truly distinguished himself by the way he has cared for grieving families.
Commissioner Bobby Compton, who worked with Cook for six years, said he learned many lessons about community service from Cook — "Be generous. Be courteous. Answer questions. Be there for people."
Commissioner Thurman Houston recalled playing together in the woods with Cook when they were children, in the days before integration, and they graduated from high school together in 1970.
"He is one of the best friends any man could ever want," Houston said. "He is the image of how Mooresville should be and how people should be treated."
Joined at the meeting by his wife of 46 years, Cathy, as well as other family members and friends, Cook said he was honored to receive recognition from his peers and from the Town of Mooresville.
When Cook was contacted by the industry trade magazine, "I thought it was hoax," he said. "I've read about scams in AARP magazine."
He was humbled that two people who nominated him thought enough of his character to do so. Receiving the honor and then being lauded by the mayor and town commission took that feeling to a new level.
"I'm blessed to have relationships with everyone standing here," he said. "There is nowhere I would rather be to receive this proclamation than in Mooresville."
It was great to see Cook be recognized for a lifetime of contributions to their community and feel some of the love returned that he has given so freely.
Mike Fuhrman is editor of Iredell Free News. Email him at iredellfreenews@gmail.com