BY JAMES MALLORY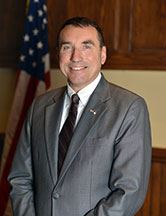 Iredell County citizens have an opportunity on Tuesday, March 3, to posture us for continued strong economic development by attracting new and expanding current businesses. Being in the Charlotte region, we will experience residential growth whether we like it or not.
Iredell County has doubled in population in the last thirty years and is projected to nearly double again in the next thirty years. The market determines where people choose to live and Iredell County offers a multitude of great options.
Unfortunately, new residential growth does not come close to paying for the services provided by the county. However, commercial and industrial growth pays more in taxes than they consume in services. Therefore, a healthy balance between business and residential growth is the key to maintaining a low tax rate (tax base x tax rate = revenue for services). Bottom line, the higher the property tax base, the lower the property tax rate, and we have the lowest tax rate of all nine of our neighboring counties and the 13th lowest rate out of all 100 counties in North Carolina.
We know that the key to business growth in the 21st century is primarily dependent on an available workforce that is trained and ready to compete in the information age economy, whatever industry may be involved. Our economic development is therefore joined at the hip with the education provided to our future workforce, professionals and employers by the teachers and staff of Iredell-Statesville Schools, Mooresville Graded Schools and Mitchell Community College.
Insofar as education spending, your Board of Commissioners is required by law to fund most local capital expenditures, including construction and maintenance of school facilities. We also supplement the state and federal funding for operational requirements based on a per pupil (ADM) expenditure. Bottom line, all of our education-related expenditures, to include associated debt service, make up about 50 percent of our annual county budget. Workforce development through education is what we do to attract businesses to provide good jobs and keep everyone's taxes as low as possible.
To that end, the Iredell County Board of Commissioners has unanimously approved placing a $126 million bond package ($115.5 million for I-SS/MGSD and $10.5 million for Mitchell Community College) on the March 3 ballot, asking the citizens of Iredell County to approve our issuing bonds to construct a new middle school for Mooresville, a new south-central high school for I-SS and a new law enforcement training center for MCC.
The need for the schools is not a projected one – both Lake Norman and South High schools are over capacity with students. Our board has a responsibility to provide seats for these young people and the least expensive way to finance the construction is to have a voter-approved bond, which typically has a ¼ percent lower interest rate than the commissioners would get by simply borrowing the funds on our own. That quarter percent can save our taxpayers around $3.3 million over the life of the loan.
Because we have been successful in attracting businesses and growing the tax base in Iredell County by nearly 20 percent in the last five years, the additional cost to taxpayers will be a one-cent increase in the property tax rate, which equates to a $10 annual increase in taxes per $100,000 valuation.
We have to build these schools. The need will not go away and the building costs will only increase over time. We cannot save our way into completing these necessary projects. We ask for your support to meet our needs, continue to feed our strong economic development engine that benefits all of our citizens, and save $3.3 million of your dollars in the process.
Please vote YES for both bonds on the back side of your primary ballot and if you would like additional information visit the Iredell County website at www.co.iredell.nc.us under News & Announcements, 2020 School Capacity Bond Information.
James Mallory is the chairman of the Iredell County Board of Commissioners.