BY KARISSA MILLER
I recently disconnected from daily life and lived on the Idaho Main Salmon River for six days.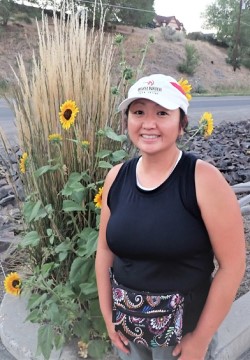 My husband and I, along with 22 other people, ditched our cell phones and watches and paddled 80 miles across the state of Idaho.
Living on the river is a unique experience, and if you like whitewater kayaking or rafting, this trip should be on the top of your list of trips to try in the future.
It is a challenge to put into words all of the natural freedom I got to experience in Idaho, so I will share a few of the highlights.
On the Water
Within a short time, our bodies were on Main Salmon time. We averaged 15 miles per day, rising before dawn to load up our sleeping kits, break down our tents and gather our personal belongings that would be carried down the river for us.
Each day everyone had a choice of boats, including a duckie (inflatable kayak), a raft or an oar rig. Since we rented whitewater kayaks that was our boat of choice for the trip.
We would stop once for lunch along the river. The guides would usually set up shade tarps and umbrellas. Since my boat was small and did not move fast across the flat-water sections, I would usually build up quite an appetite.
The river is drop-pool, with a nice mix of rapids ranging from Class I to Class III/IV at moderate flows. It allowed us to chat with other boaters while paddling through the canyon, and look up to enjoy the views, bald eagles and stunning rock formations.
On some of the bigger rapids, we generally kayaked single file. I spent a lot of time thinking about my past kayaking experiences while telling myself to kayak smart. I was really nervous I wouldn't make it through some of the bigger wave trains, but proud that I didn't let my fear hold me back.
Main Salmon
One of the cool things about doing a multi-day river trip is that you never leave the river. You are on it four to five hours a day, each day, and once we have reached the campsite, you eat and camp not far from the water.
I often found myself mesmerized by the river's path, as it carved its way through the deep canyon walls. I found joy in listening to the waves recede into big rocks on its banks when we would enter a big sand beach. It is visually calming, while the sounds are soothing and it puts you in a relaxed mood.
At other times, the river felt like a good teacher. The ebb and flow of the water revealed a new stretch of the river, a new set of possibilities. It taught me to worry less, have fun and enjoy the moment in front of me.
The surrounding scenery was usually a mix of ponderosa pines, cliffs, canyon grasslands and lush tributary valleys. The best part is there were no mosquitoes.
On the first night, we took a short walk up to an apple and cherry orchard, just a short distance from where we were camping. We were fascinated to learn things that West Virginia native Frank Lantz floated to the middle of the Salmon River on a wooden boat he built and then dissembled it to build a cabin there. The place is now called Lantz Bar.
Our guide Carly said the house burned down in 1964, and to someone like me who has interviewed people who have lost their homes I'm always obsessed in wanting to know what happened next.
Luckily, there was a good ending to Lantz's story. The National Forest stepped in to help. They sent in lumber and employees to Corn Creek. In a few weeks, Lantz had a new cabin.
Almost every day we took a side hike and learned about a new person, historical event or stopped and explored a homestead along the river. We also got the chance to stop at a clear blue hot spring.
At the end of the first couple of days, my husband and I collapsed on our sleeping bag while the guides and some of the group chatted that the night was still young.
We usually woke to the sound of pots and pans clanging around in the morning and gentle sunshine.
Our Guides
Wilderness River Outfitters is a family-owned and operated company that's been around since 1972. Our six river guides were amazing. They were Tessa, Carly, Craig, Nyima, Pepper and Shawn.
Our guides were empowered, fun, super knowledgeable and skilled on the river. They have a passion for the river and its history. I thought they did a great job of sharing it with our group.
One of the highs that week was 107 degrees. The river is around 65 degrees. The guides did a good job making sure we stayed cool by getting us on and off the water at the right time.
The Food
Our meals were prepared using local, organic ingredients whenever possible. Wilderness River Outfitters also has its own herb and vegetable garden, so you can believe me when I say that they put a lot of care into the food.
I was pleasantly surprised by the variety and uniqueness of all the vegetarian dishes. We ate great every day, which really allowed me to feel comfortable. Some of the menu for me included jackfruit and black bean tacos, tofu curry and vegetables, stuffed portabella mushrooms and other plant-based proteins.
The meat eater menu included grilled salmon, fresh salads, steak, pork chops, mashed potatoes, cheesy corn bread, frittata and eggs every morning, and sausage. There was always Greek yogurt, granola, bagels and locally roasted coffee for breakfast.
The Crew
I had never seen the Main Salmon before and breathing in the air (as I removed my nose plugs) as we crossed under the last bridge was one of the most fulfilling moments of my life. I felt so satisfied to have finished, and everyone was bursting with joy.
I waited 12 years to go on my first multi-day river trip. I wrote many stories over the years about paddlers who had this experience while living in Georgia.
I'm so grateful that I finally got to know what this moment feels like.
After all of that, I have to say that one of my favorite part about the trip was our crew. I was with 22 of the fastest friends I'd ever made in a few days. The Main Salmon was extra special because of these amazing people I got to paddle with every day.
At the takeout, another special moment was sitting beside my husband talking about my line at Vinegar Creek rapid, smiling and laughing harder than I had in a long time.
Karissa Miller is a long-time writer for Iredell Free News.
Photos