BY JOHN A. FRALEY
Throughout my career in the private sector as well as during my service as a member of the N.C. House of Representatives, I have witnessed firsthand the transformational power that investing in North Carolina communities can have for local residents, businesses and their workforces, and our state's overall economy. That is why I am proud to see that both chambers of the U.S. Congress passed the bipartisan Infrastructure Investment and Jobs Act.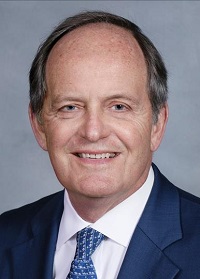 Senators Thom Tillis and Richard Burr have been absolutely instrumental in helping to shape and pass the strong, commonsense bill that is laser-focused on addressing America's hard infrastructure needs rather than one that is chock full of funding for unrelated social programs and special interests. Their hard work and dedication to ensuring this legislation also addresses the myriad infrastructure projects and priorities that need attention here in North Carolina should be commended.
Once signed into law, this bill will help strengthen communities across the state, benefitting hardworking North Carolinians regardless of their political persuasion. Some of the new investments this bill will make in North Carolina include $7.2 billion in road and highway repairs and upgrades as well as $457 million for bridge replacements. Additionally, the bipartisan infrastructure bill will allocate $109 million to expand and enhance our electric vehicle charging infrastructure, $3.5 billion in weatherization to help reduce energy costs for North Carolina homes and businesses, and $1.1 billion to improve our water infrastructure across the state.
These new investments will help improve the quality of life while driving economic expansion in North Carolina communities. They will translate to more jobs for North Carolina workers and new opportunities for local businesses and industries across the economic spectrum. It is difficult to overstate just how much of a positive impact this could have on our economy, particularly as we continue to shake off the economic doldrums of the past year and half.
This legislation will also help strengthen U.S. supply chain lines, which are currently showing what years of underfunding will do. Altogether the Infrastructure Investment and Jobs Act would provide $78 billion over the next five years to fund a nationwide backlog of projects and grant programs that will help address some of the many issues plaguing supply chains today.
These investments will help everyone who relies on the U.S. supply chain, from small North Carolina retailers to our major industries. Moreover, stronger, more expedited supply chain lines will also enable North Carolina to continue increasing our clean energy capabilities and renewable energy capacity. That, in turn, will foster continued growth in a vital economic sector to create and support a more resilient, 21st century workforce.
The Infrastructure Investment and Jobs Act is a tremendous, nearly once-in-a-lifetime opportunity that will drive much-needed investments in local communities throughout North Carolina and across the country. It is much more than just an investment in our roads, bridges, highways, and ports—although those are certainly part of it; it is an investment in creating jobs, supporting local businesses, and spurring the kind of American innovation that will help build a stronger, more sustainable, and more prosperous future for generations to come.
I salute Senators Tillis and Burr for reaching across the aisle to help craft and pass the Infrastructure Investment and Jobs Act out of the Senate.
John A. Fraley previously served in the N.C. House of Representatives. He lives in Iredell County.