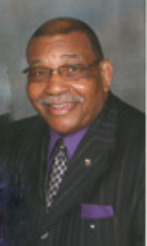 EDITOR'S NOTE: The Statesville City Council will consider a proposal ton Monday to name the new fire station in honor of William T. "Woody" Woodard.
By President Eric Todd Scott and members of Statesville Branch NAACP #5454
When a community collaboratively works for the benefit of all its citizens, gives hope to those who have little, meets the challenge of solving their problems in a struggling economy, that's noteworthy recognition. The City of Statesville was one of ten cities in the United States that was named an All-America City in 1997. Again in 2009 the city was named All-America City, and Woody Woodard was among those who traveled to Kansas City and Tampa when the Statesville team went for the presentations. Woody played an integral role in this endeavor and was a spokesperson and ambassador to help win the award for the City. As a realtor, he was also a member of the Greater Statesville Chamber of Commerce, where he worked in partnership for continuing communications amongst and between citizens and members of Statesville government.
Woodard served as chair and volunteered on the board of Fifth Street Shelter Ministries, which provides emergency shelter for individuals/families and a battered women's shelter for women and children fleeing situations of abuse. They are host to a winter shelter that operates for homeless men and women. Woody Woodard was a vital member of the massive fundraising effort to construct the new facility in South Statesville.
He was certified as a Public Manager, Public Housing Manager, and Housing Counselor and after moving to North Carolina, he was employed as the Public Housing Manager of Statesville Housing Authority until his retirement in 2000. The proposed fire department is a partnership with the City of Statesville and Statesville Housing Authority; therefore, we feel that naming the facility would be appropriate because of Woody's connection to the Housing Authority and the work that he accomplished in the City of Statesville.
Woody Woodard taught our community to soar! He was a 20-year president of Statesville Branch NAACP #5454 and helped it gain recognition at all levels of the organization — state, regional, and national. The Branch won numerous awards, including the highest honor given to a Branch by the National NAACP Organization, the Thalheimer Award, four times during his tenure.
The NAACP Back to School/Stay in School Rally produced under Woody's leadership was to be envied. It was a good thing the NAACP decided to move the rally to Statesville High School in 2008 because attendance was estimated at 800. All attendees were fed free lunch and school supply bags given to all students in exchange for their attendance at seminars designed to prepare them for a new school year and conducted by Iredell-Statesville Schools personnel and volunteers. Throughout the year, sessions were held to help students prepare for college and end of grade tests. Woody also served on the "Closing the Achievement Gap" Task Force with the Iredell-Statesville School System. This rally has since become a "trendsetter" for other community School Supply Bashes and Giveaways.
The Statesville Branch NAACP received the Susan G. Komen grants to annually fund 125 mammograms for underinsured and minority women who could not afford them. Because his wife was a cancer survivor, Woody knew and witnessed that early detection was the best way to help women fight the dreaded disease that affects a higher percentage of African-American women than other populations. The mammogram screenings were part of the annual health fair held under a tent in the local community. Other screenings were conducted in partnership with the health department, hospitals, doctors and nurses who volunteered their time. He was an active participant on the Relay for Life team to raise money for cancer research.
Woody was a candidate for a seat on the Iredell County Board of Commissioners seat. He was concerned with the narrow vision expressed by the former Board of Commissioners and hoped that people would understand that in order to maintain our desired quality of life, we must pay for it. He worked closely with the school leaders and campaigned for money to pay for new schools in our area.
He formed a coalition of organizations canvassing for district voting. The Coalition for Fair Representation was strong in its demand for a more equitable method of electing county commissioners. Woody stressed the importance of voting and conducted registration drives anywhere people assembled.
When commissioners in Iredell County wanted to establish toll-free calling for the entire county, Woody testified to the State Utilities Commission, explaining that elderly and those on fixed/low income could not afford to pay additional monthly fees that would be assessed to pay for the service. Woody felt those who use the service should be the ones to pay.
He was an active member of Chestnut Grove Baptist Church and treasurer of the Chestnut Grove Community Center. He served on local fundraising committees for United Negro College Fund (UNCF) and the American Heart Association. Woody was a founding member and president of IMPACT Inc., an organization that focuses on mentoring and preparing black males for society.
Woody was innovative and his hands-on approach to problem solving was easily recognized in the quality-of-life improvements noted throughout the community. He authored a program to help single mothers get their GED at Mitchell Community College. Provisions were made for transportation and child care without cost to the participants. He felt that quality of life could best be improved through education. He administered a scholarship program for high school seniors and was instrumental in obtaining grants that provided monies to eliminate drugs from public housing. He participated in anti-drug marches/forums, and assisted in establishing neighborhood watch programs.
Woody created a Boy Scouts Troop consisting mainly of public housing residents. He raised funds for charter fees, membership fees, to purchase uniforms, for camp outings and other activities. Woody found pleasure in being a real estate salesperson at Pillar Homes in Statesville because he specialized in helping people mend their credit and prepare them to buy their very own home. Many people attest to the fact that were it not for Woody, they would not have been able to purchase their first home.
Woody was appointed by Mayor Costi Kutteh to serve on the Statesville Human Relations Commission, where he was elected as chair until his untimely death in May 2013. He also was a member of the Jail Population Committee. He worked with the police department's and sheriff's office and other community leaders to solve problems before they escalated into bigger issues. He demonstrated dynamic leadership in the community. Woody was just a telephone call away from individuals seeking assistance. He wrote many letters, offered many suggestions, and was usually successful in finding a solution. Woody was truly committed to uplifting the down-trodden, making every effort to enhance their upward mobility. He generously gave his time and created programs that positively impacted the welfare of the Statesville area community.
Born and reared in Wilson, N.C., Woodard graduated from Charles H. Darden High School in 1953 and enlisted in the U.S. Air Force, where he proudly served his country for 21 years and performed a variety of duties, such as Air Traffic Controller, Recruiter, Information Specialist, Radio/Television Broadcaster, and Non-Commissioned Officer-in-Charge of Race Relations Education. He was among the Air Force's first Equal Opportunity & Treatment Officers. His military awards included the Bronze Star with Clusters, Commendation Medal with Clusters, and the Vietnam Honor Medal. Woodard attended Southern Illinois University at Carbondale.
Upon retiring from the Air Force in 1974, Woody resumed civilian life in Burlington Township, New Jersey, including his political and community involvements. In 1978, with the assistance of several Black County activists, he was instrumental in forming Burlington County Black Caucus Inc., an organization dedicated to pursuing the needs and desires of county residents in general, and emphasizing the special needs of Black Burlington County residents in particular. He was honored by being elected as the organization's first president, and served in that position for five terms.
He was also a two-term president of the Burlington Township Democratic Club, a six-term Democratic County Commissioner and served eight years as Chairman of the Burlington Township Planning Board. He also served as the Township Liaison to the Joint Burlington Economic Development Corporation.
He retired from the New Jersey State Department of Corrections in 1987, where he served as a Confidential Agent and Assistant Commissioner.
Some of his civilian awards included selection as the 1989 North Carolina NAACP Outstanding First Term Branch President, 1993 NAACP Branch President of the Year, the Medgar Evers Award (1994), the North Carolina Human Relations Commission Community Involvement Award given by Governor James G. Martin, and the prestigious Order of the Long Leaf Pine Award given by Governor Beverly Perdue in 2011 for his proven record of extraordinary service to the State of North Carolina. Contributions to their communities, extra effort in their careers, and many years of service to their organizations are some of the guidelines by which recipients are selected for the Long Leaf Pine Award.
It is therefore imperative that we implore you to name the new fire station after William T. Woodard, a great leader, advocate, and citizen of the Iredell-Statesville Community. Woody put out fires, started fires, and remained steadfast in Firing up, our Iredell-Statesville Community, for the betterment of all people.