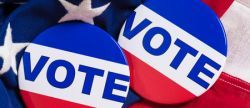 BY MIKE FUHRMAN
Theresa Knight has taken a calculated risk in her bid to win a seat on the Mooresville Graded School District Board of Education.
She's betting that her affiliation with the Moms for Liberty — and all that entails — will help her win one of three at-large seats on the MGSD Board during the November 7 election. (Early voting has already started.)
During a recent candidates forum, Knight sounded very knowledgeable on the issues as she answered questions about education policy and the appropriate role of an elected school board.
That makes you wonder why she has intentionally aligned herself with the Moms for Liberty. The group doesn't typically host fundraisers for people who disagree with their extremist views and efforts to disrupt local government.
The Moms for Liberty, which has been classified as a far right, anti-government organization by the Southern Poverty Law Center, backed four candidates who won seats on the Iredell-Statesville Schools Board of Education in 2022.
That has not worked out well. Three of the four — Mike Kubiniec, Brian Sloan and Anita Kurn — have turned I-SS into a bona fide train wreck. (The fourth, Abby Trent, has distanced herself from the other three and this extremist group.)
The trio of Moms for Liberty disciples on the I-SS Board has disparaged students, elected officials and district staff.
For those who have not been following this saga, Kurn suggested in a series of secret texts with other board members that the discipline problems at Statesville High could be resolved by having unruly students fight in a Thunderdome. Sloan joked that the district could charge admission for this fights.
Meanwhile, Kubiniec has made a name for himself by helping create a fake controversy where none exists. In furtherance of this absurd scheme, Captain Book Banner recently encouraged members of the Moms for Liberty to read sexually explicit material during the public comment period of an I-SS Board meeting.
Earlier this month Kubiniec was removed from his position as vice chair by other I-SS Board members, who are also expected to consider a motion to censure him in November. Among the former vice chair's transgressions: Taking a convicted drug offender — who identified himself alternately as the "puppet master" and as Kubiniec's campaign manager — on a tour of an I-SS school.
Thanks to this group, the I-SS Board has become an embarrassment. I'm sure their actions are helping district administrators recruit and retain top teachers, raise test scores and help students struggling with mental health issues.
This is not the type of leadership MGSD needs.
As Election Day approaches, Kubiniec and Kurn are actively supporting Knight in the MGSD race, giving their time and money to help bolster her candidacy.
Residents who live in the MGSD voting district might feel like electing a candidate who can bring some new ideas to the current board might benefit students and staff.
That may be true. But it's increasingly difficult to imagine any candidate aligned with the Moms for Liberty will bring anything to MGSD other than the misguided antics and activism that are now plaguing Iredell-Statesville Schools.
As Iredell County residents from The Point in southern Iredell to Union Grove in the north end of the county have learned, voters who elect Moms for Liberty-backed candidates to lead their schools do so at the peril of students, teachers and administrators.
Mike Fuhrman is the editor of Iredell Free News.