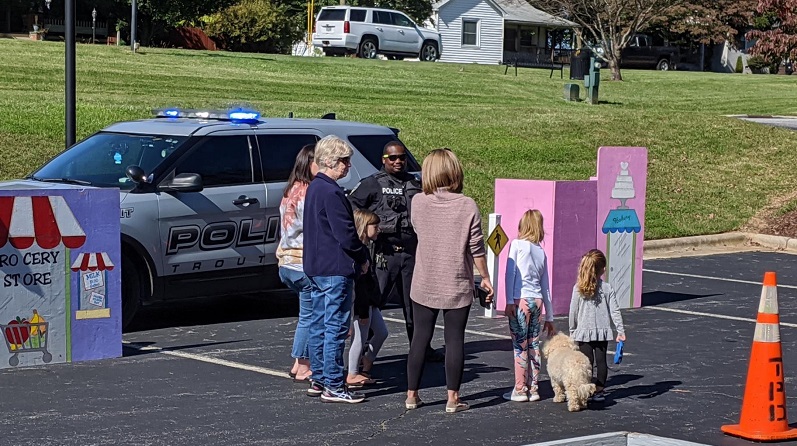 Photos courtesy of Troutman Police Department
BY DEBBIE PAGE
debbiepage.iredellfreenews@gmail.com
Like many events, Troutman Police Department's popular National Night Out in August was canceled because of the state's COVID-19 gathering restrictions. When a less restrictive Phase 3 began, TPD Chief Tina Fleming, along with colleagues from her department and Statesville Police Department, decided to stage a safe, socially distanced version on October 3.
Fleming "received several positive comments expressing how pleased they were that the PD was trying to salvage NNO in some form or fashion when many agencies had to cancel their events."
Having the event was important to Fleming, especially in light of recent tensions between police officers and the communities they serve in some parts of the country.
Fleming explained that National Night Out is an effort to promote partnerships between the community and their police department to help decrease crime. The first event consisted of citizens turning their porch lights on and sitting out on their front porch or lawn to deter crime during the night.
"We wanted to try and do something to remind citizens that the Troutman PD values our partnership with citizens and businesses," Fleming said. "Our goal was to reinforce or develop a positive rapport with citizens."
Citizens could come by and pick up a goodie bag filled with donations from local businesses, community partners and TPD. Approximately 100 goodie bags were handed out over the course of the four hour, drop-in event, according to Fleming.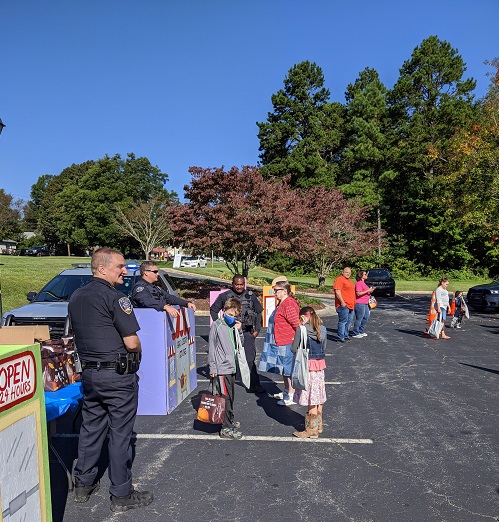 The department's "Safety Town" was also set up for everyone to walk ride their bikes through in a socially distant manner. Several officers were on hand to greet the citizens and to hand out the bags.
Since several officers were unable to attend due to their work schedule, the department also created a video (available at https://www.troutmannc.gov or at https://www.facebook.com/TroutmanPD) to introduce officers to the growing community. Since so many residents are relatively new, this effort is another tool to connect officers with the people they serve.
Fleming thanked the many groups and organizations who contributed to the treat bags, including McDonalds, Holy Trinity Lutheran Church, Troutman Library, The Sign Shop, Southern Treats, Elliott Insurance, Pla Mor Lanes, Wendy's, State Farm Insurance, Goodwill, Southern Family Medicine, My Sister's House, Partners, Drug-Alcohol Coalition of Iredell (DACI), Lowes Home Improvement, Statesville PD, Insight Human Services, and Food Lion.
Fleming also hopes the department's monthly Coffee with a Cop can resume at the local McDonald's after she works out a safe method to do so with the owners.
In the meantime, Fleming said she encourages "the officers to not only be visible in businesses and/or various locations around town, but to engage in conversation with citizens. Developing a positive rapport will allow individuals to get to know us on a first name basis."
The most valuable asset the police has is the community.
"If you see something, say something. Any information citizens may have of a criminal nature or general concern for the safety of citizens, please pass it on to us. We cannot be 100 percent successful in our jobs without assistance from community members."