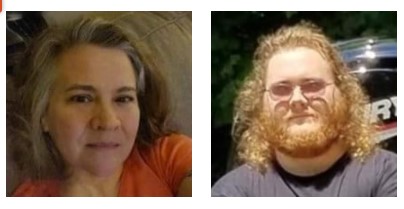 Angela Dawn Cook, 51, and her son, J.T. "Jay" Cook, 27, of Troutman, N.C., were called together to be with the Lord on July 27, 2021. Angela was born on May 1, 1970, in Gaffney, S.C., to Sondra Dover and Joe Duncan. Jay was born on December 16, 1993, to the late Angela Cook.
Angela always wanted everyone to be happy. She loved to cook, garden, and can foods, and she was really well known for the apple butter that she made. She enjoyed raising her chickens and taking care of flowers. Angela was a wonderful mother who loved her sons unconditionally. She was a caring daughter who always checked on her parents and would help them in any way. She had a special relationship with all her nieces and nephews.
Jay loved the outdoors, especially deer hunting and fishing. Jay enjoyed cooking and music of any genre. He loved his brother, Corey, and was very close to him, as well as his mother, Angela.
They were both deeply loved and will be greatly missed.
Angela and Jay are survived by son/brother, Corey Cook; mother/grandmother, Sondra Dover (Significant other Bill Draughn); father/grandfather, Joe Duncan (Marcia); sister/aunt, Melody Edwards; step-brother, Luca; nieces, nephews/cousins, Kyle, Cammie (Bryan), Taylor, Troy, Evie, and Michael; and many other extended family members.
A memorial service for both Angela and Jay will be held on Thursday, August 5, 2021, at 3 p.m. at Cavin-Cook Funeral Home & Crematory with a receiving of friends following until 5 p.m. Pastor Jamie Hamrick and Pastor Georgianne Hartline will be officiating.
In lieu of flowers, memorial contributions can be made to Cavin-Cook Funeral Home & Crematory, P.O. Box 977, Mooresville, NC 28115, (704) 664-3363, to assist with funeral expenses or to the Autism Society of NC, 5121 Kingdom Way, Suite 100, Raleigh, NC 27607.
Cavin-Cook Funeral Home & Crematory, Mooresville, is serving the Cook family. Condolences may be made to the family at www.cavin-cook.com.