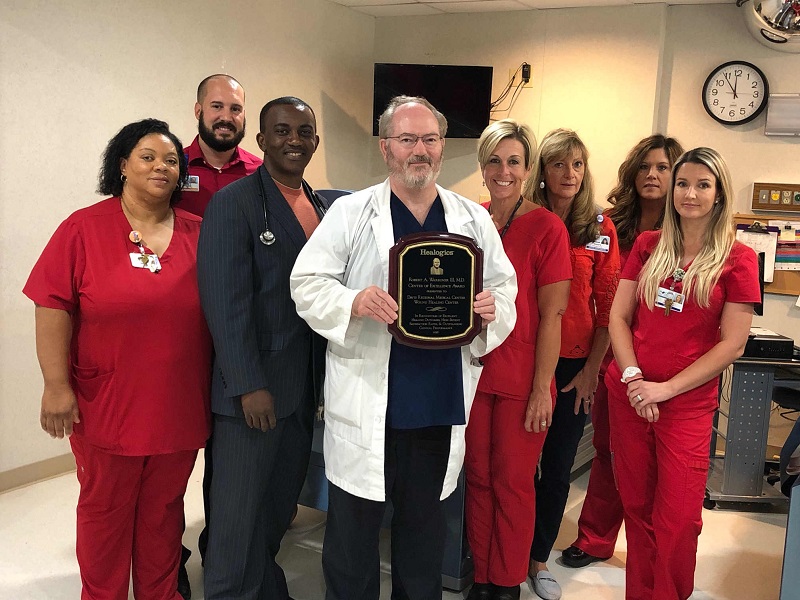 Special to Iredell Free News
Davis Regional Medical Center's Wound Healing Center was once again named a Center of Distinction/Center of Excellence. This earns Davis Regional the distinction of being the only hospital in the county to receive this prestigious award for five consecutive years.
The Davis Regional Wound Healing team has earned numerous awards over the years, starting with
Center of Distinction and ultimately Center of Excellence, the highest award given by Healogics.
The hospital's Wound Healing Center achieved outstanding clinical outcomes for twelve consecutive
months, including patient satisfaction higher than 92 percent, and a minimum wound healing rate of at least 91 percent within 30 median days to heal.
"Wound healing is a complex biological process that requires expertise, resources, and diligence to realize results," Davis Regional CEO Josh Snow said. "We are very proud of this team and their outstanding track record of healing chronic wounds. Because of their expertise, patients are able to return to their previous lifestyle with a reduced chance of amputations and other health complications."
Davis Regional's Wound Healing Center is a member of the Healogics network of more than 600 Wound Care Centers. The Healogics network provides access to benchmarking data and treats more than 300,000 patients each year.
Dealing with a chronic wound is very difficult and disruptive to the patient, according to Dr. Alan Keys, the medical director of the Wound Healing Center.d
"Without intervention, a chronic wound can lead to more serious conditions," Keys explained." But help is close by, and if you or a loved one is dealing with a serious wound, I invite you to call us for an appointment."
Davis Regional's center offers highly specialized treatment to patients suffering from acute and chronic wounds and ulcers, including diabetic ulcers, venous insufficiency, arterial ulcers, trauma, and radiation-affected tissue. Advanced treatments include negative pressure wound therapy, bio-engineered skin substitutes, biological and biosynthetic dressings, and growth factor therapies.
The center also houses two Hyperbaric Oxygen Therapy chambers (HBO) that are equipped with TVs and other features that are designed to put patients at ease. HBO involves having a patient spend about two hours in a high atmospheric pressure chamber breathing 100 percent oxygen over a period of several weeks. This process allows wounds to heal from the inside out, which is the most effective way of healing for specific wounds.
Davis Regional's Wound Healing Center is led by a team of physicians. Serving with Dr. Keys on the panel are Dr. Samuel Inkumsah, Dr. Rachel Rader, Dr. William Bicket, and Dr. Natalie Martinez-Jones.
LEARN MORE
For more information on the Wound Healing Center, call 704-838-7461. Same-day appointments are available and a physician referral is not needed.