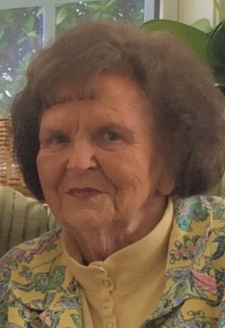 Mrs. Edna Louise Galliher Rimmer, 87, of Troutman, N.C., passed away peacefully, Friday, April 17, 2020, at her home.
Mrs. Rimmer was born February 25, 1933, in Iredell County and was the daughter of the late Arthur Furches Galliher and Clara Brown Galliher. She was a graduate of Troutman High School, where she was the Salutatorian of her class, and she received her Business Degree from Lenoir-Rhyne College. On May 30, 1954, she married Edwin Murdock Rimmer, who survives. She previously worked for Troutman Shirt Co., Forest Products Inc., 20 years with the Presbytery of Concord and was actively working for Davidson College in the Controller Office since June 1990.
She was a loving wife, mother, Nana, sister, friend and co-worker. She was a longtime member of Holy Trinity Lutheran Church, where she taught Sunday School in the Children's Department for over 30 years. She was a member of the women's group for many years and a lifetime member of Lutheran Church Women. She was a 4-H Leader for 15 years, served on the Troutman Fire Department Auxillary, American Legion Auxillary and participated in Relay for Life. She loved growing and repotting plants that she shared with her co-workers and friends. She was a wonderful cook and spent many hours in the kitchen preparing meals, canning and freezing the garden produce.
In addition to her husband, she is survived by three children, Kenny Rimmer of Troutman, Cynthia R. Curry (Jeff) of Mooresville, and Alice E. Rimmer of Troutman; one granddaughter, Sarah Curry of Mooresville; one brother, Donald W. Galliher Sr. of Statesville; and numerous nieces, nephews, cousins and Nicole Hembree and her daughter, Kylah. She was preceded in death by one sister-in-law, Doris Jean Galliher.
Private family graveside service will be held Saturday, April 25, 2020, at St. Michael's Cemetery. A memorial service will be held at a later date.
Mom was a selfless woman that always put her family and others before self.
The family would like to give a special thanks to Dr. Grimm, Dr. Bouhussein, Dr. Hatharasinghe, Dr. Rosser and their staff, along with Hospice nurses Paige Stanich and Lorrie Warren for their love and support.
Memorials may be made to Hospice and Palliative Care of Iredell County or to a charity of the donor's choice. Online condolences may be made to www.troutmanfuneralhome.com
Troutman Funeral Home is serving the family of Mrs. Edna Rimmer.