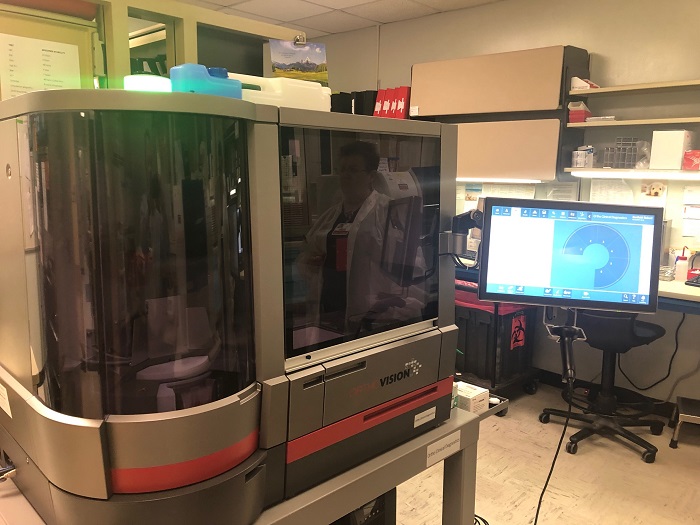 Special to Iredell Free News
Iredell Memorial Hospital's Laboratory Microbiology and Blood Bank Department has implemented new automation technology – the Ortho Vision Analyzer and Cepheid GenXpert System – that ensures accuracy for patients and ease of use for clinical staff.
"Laboratory staff are very proud to continue to bring cutting-edge technology that will benefit our clinical staff, patients, and family of Iredell Memorial," said Mark Berry, director of the Iredell Memorial Laboratory.
The Ortho Vision Analyzer automates in-vitro blood tests to provide staff with precise results and quick turnaround times. The system is a standalone instrument interfaced with the laboratory information system that automates blood typing, antibody screening, and direct antiglobulin testing.
Iredell Health System implemented the Ortho Vision Analyzer to help its Laboratory team provide more reliable, efficient results to patients and physicians.
While standardizing transfusion medicine with laboratory staff, the system helps improve the Laboratory's efficiency and workflow by transitioning its transfusion techniques from the more labor-intensive manual gel methods to full automation.
The Cepheid GenXpert System is an automated, multiplex analyzer that rapidly tests for many viruses and bacteria.
Able to perform more than 20 tests in real time, the GeneXpert System detects and amplifies unique sequences in genes that encode proteins for influenza, respiratory syncytial virus (RSV), clostridium difficile, methicillin resistant staph aureus (MRSA), chlamydia trachomatis, and Neisseria gonorrhoeae.
To target sequences from clinical specimens, Iredell Memorial Laboratory technicians use the GenXpert System to convert RNA to DNA through a technique known as reverse transcriptase polymerase chain reaction (RT-PCR).
Laboratory technicians gather diagnostic information by performing the RT-PCR testing on patients presenting signs and symptoms for certain diseases. Patients and their physicians then have qualitative, DNA-specific test results to provide patients with rapid diagnoses and treatment.
The GenXpert System consists of an instrument with multiple testing bays, a computer system, and software to conduct tests and view results. The results are transmitted to Iredell Memorial's electronic medical records via the laboratory information system.
By embracing the advancement of molecular technology, the Iredell Memorial Laboratory will provide real-time PCR testing for influenza and RSV with a turnaround time of less than 40 minutes.
Iredell Memorial Laboratory provides round-the-clock diagnostic laboratory testing available to patients and clinicians.
About Iredell Health System
Iredell Health System includes Iredell Memorial Hospital; Iredell Home Health; Iredell Wound Care & Hyperbaric Center; Community and Corporate Wellness; Occupational Medicine; the Iredell Physician Network and more. Iredell Memorial Hospital is the largest and only non-profit hospital in Iredell County. The comprehensive healthcare facility has 247 beds; more than 1,700 employees; and has 260 physicians representing various specialties. Centers of excellence include Women's and Children's; Cardiovascular; Cancer; Surgical Services and Wellness & Prevention. The mission of Iredell Health System is to inspire wellbeing. For a comprehensive list of services and programs, visit www.iredellhealth.org