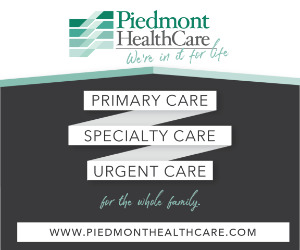 Special to Iredell Free News
Through the coronavirus pandemic, Piedmont HealthCare has stood strong. Going forward the provider's resolve will not change as its healthcare professionals continue to look for ways to answer the question, "How can I help?"
In early March when fear hit North Carolina, Piedmont HealthCare quickly opened two COVID-19 screening sites in Iredell County to support the community and help keep potential COVID-19 patients out of local medical offices and hospitals. These screening sites remain the only two sites offered in Iredell County.
"We have taken many steps to ensure our ability to care for you during this unprecedented time," said Piedmont HealthCare CEO Jeff Smith, "Ongoing medical care is essential in our community. From injuries to chronic illnesses, there are endless reasons you need to see your doctor. We want to make sure you can do that safely."
Are medical offices safe to go to?
The short answer is yes. If you have a need for an in-office visit, rest assured that many procedures have been put in place to keep patients safe.
Piedmont HealthCare offices have spaced out chairs six feet apart, removed magazines and other non-essential objects from the waiting rooms, and been persistent about disinfecting exam rooms after every patient, along with cleaning knobs, surfaces, and high traffic areas multiple times a day. These actions combined with separating the well patients from the sick patients and having some patients wait in their car when necessary have created a safe environment for you or a loved one to be seen in the office.
However, seeing your doctor does not have to mean an in-office visit. Telehealth has emerged during this pandemic as an efficient and reliable way to care for patients remotely. Video visits offer providers a real time visit with audio and video for two-way communication to diagnose, treat, or monitor a patient's condition. Call your Piedmont HealthCare doctor's office to schedule a video visit or you can jump on an on-demand video visit with a PHC Urgent Care provider.
Video Visits are done through Piedmont HealthCare's Follow My Health Patient Portal or several other options during the pandemic. The FMH portal offers many other benefits to patients including requesting prescription refills, tracking and updating your medical records, and providing secure communication with your doctor's office. If you need assistance getting signed up for the portal or are having trouble logging in, contact 833-463-6742 to speak with an FMH enrollment team member.
If you have any questions or concerns, call the Piedmont HealthCare hotline at 833-INFO-PHC (833-463-6742). A special thank you to all the frontline employees working through this pandemic; your dedication is inspiring and you are making a difference in our community.
About Piedmont HealthCare
Piedmont HealthCare is one of the largest physician-owned and professionally led multi-specialty groups in North Carolina and the Southeast. We are committed to providing excellent care for the whole family. With more than 60 convenient locations and nearly 200 physicians and providers across multiple specialties, we provide the most innovative medical care for our community. Visit piedmonthealthcare.com to learn more.