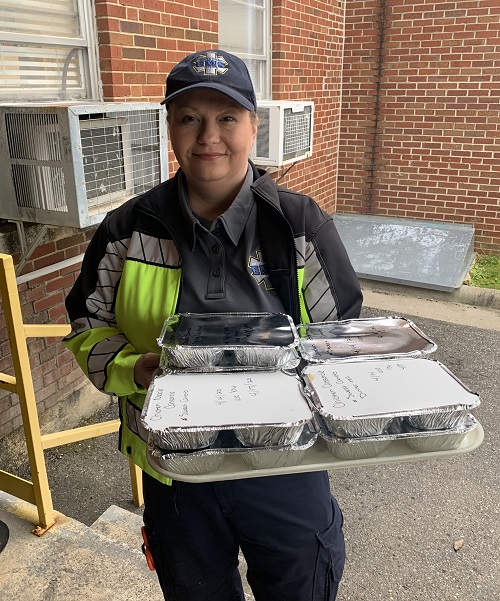 Special to Iredell Free News
Iredell Health System's Food & Nutrition Department is helping local residents meet their nutritional needs by donating meals to Iredell County Emergency Services. The meals support Iredell County EMS's Community Paramedic Program, a program focused on serving the community and decreasing healthcare costs while reducing hospital readmissions.
The Community Paramedic Program addresses patients' needs in their homes, alleviating the need for an individual to go the hospital in non-emergent situations. During home visits, Iredell County EMS has witnessed an increase in local patients' need for food, one of the top two obstacles they face along with transportation. Iredell Health System and Iredell County EMS work together to provide patients with optimal healthcare, while recognizing that patients must first have their basic nutritional needs met.
"If someone cannot eat, or if someone does not have food, they can't also take care of their health conditions. And I'm sure it contributes to the worsening of health conditions," said Iredell County EMS Director Blair Richey.
Many of the individuals the Community Paramedic Program serves are frequent patients of Iredell Memorial Hospital or of Iredell Home Health, a nonprofit agency that provides home healthcare for people who are homebound due to illness, injury, or disability.
The donations from Iredell Health System help meet patient needs that the Community Paramedic Program cannot always meet alone.
"We have discovered so much need in the community beyond what we typically can assist with via our Community Paramedic Program," Richey said. "In partnering with Iredell Health System
and other local organizations, we are able to help create a much more preventive and proactive EMS system versus only reactive."
"We feel this is a great way to support this community program and help meet such a basic, fundamental and critical need," said Larry Pizzorni, Iredell Health System's assistant vice president of ancillary services.
Richey expressed appreciation to Iredell Health System for its donation.
"We thank them for doing this. It is so good. It makes our Community Paramedic Program better when we are able to take food to someone that needs it," she said.
About Iredell Health System
Iredell Health System includes Iredell Memorial Hospital; Iredell Home Health; Iredell Wound Care & Hyperbaric Center; Community and Corporate Wellness; Occupational Medicine; the Iredell Physician Network and more. Iredell Memorial Hospital is the largest and only nonprofit hospital in Iredell County. The comprehensive healthcare facility has 247 beds; more than 1,700 employees; and has 260 physicians representing various specialties. Centers of excellence include Women's and Children's; Cardiovascular; Cancer; Surgical Services and Wellness & Prevention. The mission of Iredell Health System is to inspire wellbeing. For a comprehensive list of services and programs, visit www.iredellhealth.org.