EDITOR'S NOTE: In honor of National Colorectal Awareness Month in March, Piedmont HealthCare is proud to recognize the four PHC gastroenterologists who have made Iredell County home. Throughout the month PHC will highlight a gastroenterologist in a brief Q&A each week as well as provide helpful information to readers about colorectal awareness. This week the spotlight is on Dr. Brandon Marion with Northlake Digestive Care of Piedmont HealthCare.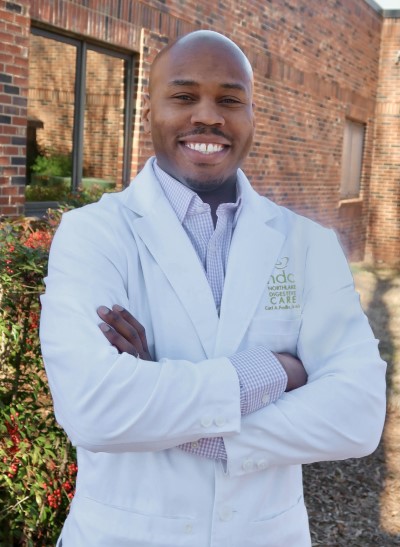 Special to Iredell Free News
Q: What brought you to Iredell County?
DR. MARION: As I began looking for practices to join in my second and third year of fellowship, I was fortunate enough to meet with Dr. Carl Foulks through a mutual colleague of ours. I was able to learn more about the practice of Gastroenterology with Piedmont HealthCare here in Iredell County and felt like I would be a good fit here. Two and a half years later, I can't see myself practicing anywhere else.
Q: Why Gastroenterology and when did you realize that is what you wanted to make your medical specialty?
DR. MARION: Gastroenterology is such a diverse specialty. There are so many aspects to the digestive system and so much that we know already, but there are still so many unknowns, which keeps this specialty interesting day in and day out. We have the ability to diagnose, treat, and also provide interventions for gastrointestinal emergencies in addition to providing preventive measures for diseases such as esophageal and colorectal cancer. I knew I'd be entering into Internal Medicine as a medical student. During my fourth year, I rotated with the inpatient GI luminal service and pretty much from that day on knew that I wanted to be a Gastroenterologist. It was seeing my attending perform endoscopy that solidified my choice to pursue GI.
Q: Tell us a little bit about your story – what led you to the practice you have today?
DR. MARION: Once I decided to join PHC, things have continued to progress positively. Like any new provider out of training, I started off with humble beginnings. However, roughly five to six months into practice, I inherited the practice of Dr. Joseph Petrozza who had been a Gastroenterologist in Statesville for years. He was entering into retirement and I had the honor of taking over his practice and the special task and privilege of taking care of his patients. We were also so fortunate to be able to inherit and continue to work with Nicole Eaton PA-C, who has cared for GI patients for years as well. Dr. Foulks and I continue to provide care for patients in need of gastroenterological care here at Northlake Digestive Care.
Q: What do you like most about working in Iredell County?
DR. MARION: The patient population, hands down. I believe this county needs providers who can deliver top-notch gastroenterological care, and my hope is that we can continue to do this for as long as possible.
Q: What is one piece of free medical advice you'd like to give your readers right now?
DR. MARION: Please, please, please make sure to have your screening colonoscopy for colorectal cancer as recommended. If you are hesitant about having a procedure, there are additional forms of screening tests that are available.
Q: Tell us a little bit about what you do in your free time.
DR. MARION: I try to stay as active as possible. I love spending time with my family and friends. Biking has become a major hobby of mine over the past couple of years. Running, golfing, boating, being a foodie, and sometimes just relaxing are also things I like to do in my free time.
Dr. Marion and his Physician Assistant, Nicole Eaton, are accepting new patients at his office in Statesville at 208 Old Mocksville Road, 28625. Call (704) 878-2021 to schedule a visit.