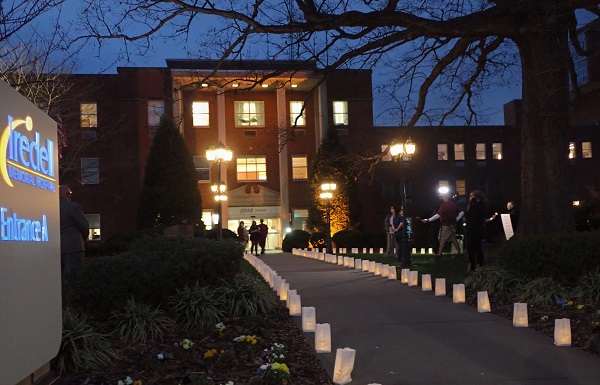 BY KARISSA MILLER
With 86 luminaries lining the walkway to the front entrance of Iredell Memorial Hospital, Iredell staff, doctors and nurses gathered Thursday outside to honor survivors and remember the lives lost to COVID-19.
Due to limits on public gatherings, a limited number of people attended the ceremony. The event was livestreamed on the Iredell Health System Facebook page.
Iredell Health System President & CEO John Green said that each luminary represented 10 patients who have been hospitalized for COVID-19, including those who lost their lives as well as those who are still struggling to overcome the effects of the coronavirus.
Iredell Memorial has treated 860 COVID-19 patients, including a little more than 100 who have died.
"It's been challenging, frustrating and fatiguing for all," Green said. "What we've also seen is determination, resourcefulness and strength, both from our community and the folks that work in this facility."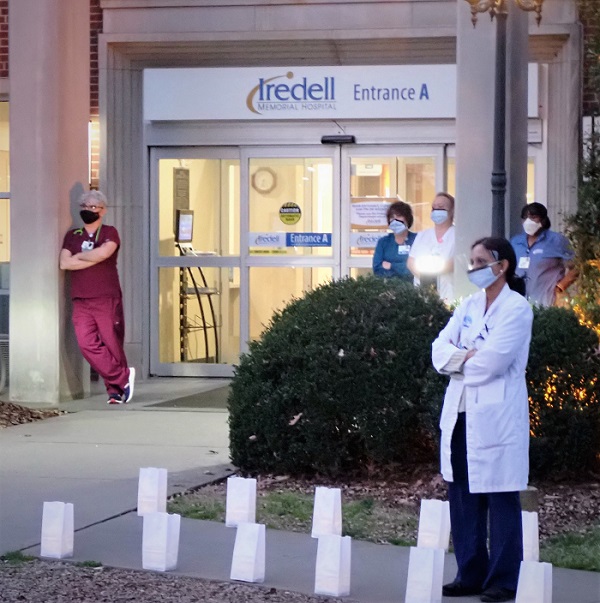 The World Health Organization declared a global pandemic on March 11, 2020, which was also the first day that Iredell Memorial had a COVID-19 patient in their facility.
Some 2.63 million deaths around the world, including more than 530,000 in the U.S., more than 11,600 in North Carolina and more than 200 in Iredell County, have been attributed to COVID-19.
Danielle Pennell, a clinical coordinator in the Iredell Memorial ICU, explained during Thursday's ceremony that knowing that you have a team of nurses and physicians at your side has been very important for COVID-19 patients.
"Sometimes just holding their hand and telling them they are not alone is all the comfort they need," Pennell said, reflecting on caring for COVID-19 patients.
COVID-19 patients have become like family, she said, and the hospital's staff has also gotten to know their family members even though they have never stepped foot inside the ICU.
Kellie Roten, assistant director of Iredell Memorial's Five North Nursing Unit, shared how nurses had to quickly evolve into COVID-19 nurses and said different departments have been working hand-in-hand throughout the pandemic.
Surgical nurses turned into COVID nurses, and other specialty nurses and CNAs stepped up to the plate, Roten said, and underwent training to care for these patients, she added.
"No amount of training could prepare us how this virus affects a person. On multiple occasions we had entire families hospitalized," Roten said.
They have sung "Amazing Grace" to patients, prayed with them, and have also lined the hallways to celebrate the successful recovery of patients leaving the hospital.
The crisis has also strengthened relationships with respiratory therapists, a team that has been critical to treating patients during the past year, Roten added.
Director of Iredell Memorial's Respiratory Care Services Department Bob Noble said that in his 30 years of work he's never been as proud of his Iredell family as he is now.
He's witnessed staff live up to Iredell Memorial's values of compassion, respect, collaboration and integrity as they have encountered and overcome unimaginable circumstances during the pandemic.
The ceremony included a moment of silence.
Photo Gallery