EDITOR'S NOTE: In honor of National Colorectal Awareness Month in March, Piedmont HealthCare is proud to recognize the four PHC gastroenterologists who have made Iredell County home. Throughout the month PHC will highlight a gastroenterologist in a brief Q&A each week as well as provide helpful information to readers about colorectal awareness. This week the spotlight is on Dr. Vivek Trivedi with the Comprehensive Digestive Care Center of Piedmont HealthCare.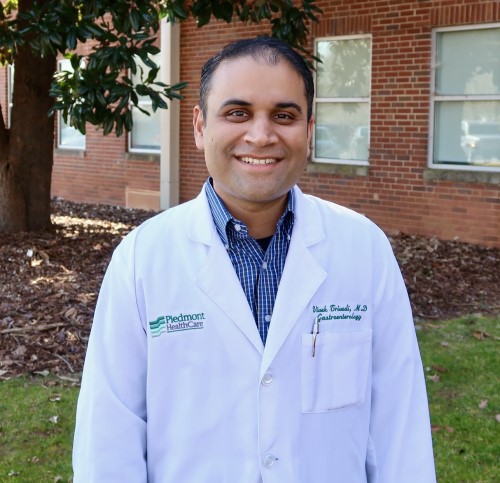 Special to Iredell Free News
Q: What brought you to Iredell County?
DR. TRIVEDI: My family is the primary reason that brought me here. My parents have been residents of Iredell County for the last 21 years. My dad is a mechanical engineer who designs air compressors for Ingersoll Rand; my mom worked as a daycare teacher in Mooresville. After I graduated from my internal medicine residency and Gastroenterology fellowship training in New York, my wife and I decided that we would like to settle down in North Carolina, which was appealing to us for its many aspects. It has great climate with more moderate temperatures. It has both beautiful mountains and terrific beaches. Living and working in Iredell County situates us in the perfect central location.
Q: Why Gastroenterology, and when did you realize that is what you wanted to make your medical specialty?
DR. TRIVEDI: Gastroenterology is an amazing medical specialty. It encompasses a perfect combination of diagnostic, preventative, therapeutic and procedural-based medical science blended with the ever-evolving, exciting new technologies that involves hand-eye coordination based minimally invasive procedures. During my medical school and internal medicine residency years, I was fascinated by the field of gastrointestinal endoscopy. I had set my mind on focusing on prevention of gastrointestinal malignant disorders, treating gastrointestinal inflammatory conditions and helping people improve their quality of life by taking care of their chronic gastrointestinal ailments.
Q: Tell us a little bit about your story – what led you to the practice you have today?
DR. TRIVEDI: After graduating from my fellowship and after receiving my board certification in gastroenterology in 2013, I started working as a hospital-based gastroenterologist in Statesville in July 2013. Subsequently, after 15 months of working as an inpatient gastroenterology hospitalist, I joined Piedmont HealthCare and the outpatient medical practice with a very well-established and renowned gastroenterologist/hepatologist, Dr. Robert Reindollar, in September 2014. In 2016, I was honored with a "Fellow" recognition from the American College of Physicians (ACP). In 2017-2018, by completing the training and assessments required for achieving STAR certification by the American Society for Gastrointestinal Endoscopy (ASGE) for endotherapy of Barrett's esophagus, I am able to offer advanced therapies for this condition. In 2017, my office manager MaryAnn and I decided to name our gastroenterology practice "Comprehensive Digestive Care Center" so as to truly reflect a comprehensive GI practice which offers a wide variety of gastrointestinal and hepatology-based services for the community. We offer routine endoscopic procedures (namely EGD – upper endoscopy and colonoscopy) and advanced biliary endoscopy (ERCP). Other diagnostic and therapeutic procedures available include liver Fibroscan (to assess liver scarring and degree of fat content in liver), small bowel video capsule endoscopy, hemorrhoidal banding and various breath tests (to diagnose and treat small bowel bacterial overgrowth). We also are able to provide treatment of chronic viral hepatitis and liver cirrhosis, diagnosis and treatment of inflammatory bowel diseases, colorectal cancer prevention, acid reflux management, and Barrett's esophagus diagnosis and treatment.
Q: What do you like most about working in Iredell County?
DR. TRIVEDI: The residents of Iredell County are extremely kind and friendly. The community is very close-knit and it has the small-town community feel as well as the suburban metropolitan appeal. I'm very fortunate to work with the most compassionate and caring nurses and medical staff as well.
Q: What is one piece of free medical advice you'd like to give your readers right now?
DR. TRIVEDI: Please don't ignore the U.S. Preventive Services Task Force (USPSTF) screening guidelines for colorectal cancer prevention and please get the age-appropriate colorectal cancer/adenoma screening test done. And please don't ignore acid reflux/heartburn as it can put you at increased risk for serious health complications, including esophagitis, or inflammation of your esophagus. It can also increase your risk for cellular change and a disorder called Barrett's esophagus.
Q: Tell us a little bit about what you do in your free time.
DR. TRIVEDI: I live in Iredell County with my family — wife and two kids. My daughter is 5 years old and my son is 18 months old. My parents live in Mooresville so we spend time with them frequently as well. My hobbies include travelling, exploring restaurants, golf, tennis and table-tennis and, of course, spending time with my family.
Dr. Trivedi and his two Nurse Practitioners, Tiedre Palmer and Crystal Hopkins, are accepting new patients at their offices at 340 Signal Hill Drive, Suite A, in Statesville and 359 Williamson Road in Mooresville. Call (704) 978-1144 to schedule a visit.