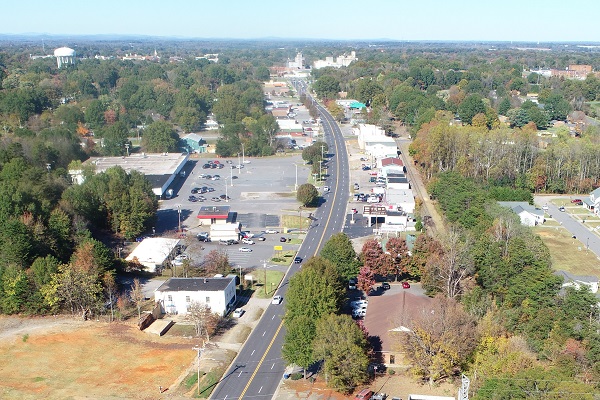 Special to Iredell Free News
The Shelton Avenue Linear Park has a new advisory committee to assist the City of Statesville with the planning and design of the proposed multi-use path and linear park on the east side of Shelton Avenue.
Assistant Planning Director Sherry Ashley described the committee as the "eyes and ears of the south Statesville community."
She and other city representatives met with the advisory committee recently to explain the purpose of the project and the committee's role in the project's development. Also in attendance was Gary Warner with WithersRavenel, the planning and engineering consultants selected by the city to design the multi-use path.
"It was a very good meeting that confirmed the importance of creating the advisory committee," said Ashley. "As representatives of the neighborhood, the committee's help is needed to help get the word out into the community to increase participation and address any concerns and identify potential opportunities within the project," explained Ashley. "The committee will help create a community vision for the linear park."
Even more importantly, the committee can help their friends and neighbors better understand the planning process and encourage community input regarding the location and recreational amenities along the path, she continued.
The proposed multi-use path and linear park was first identified as part of the Downtown & NC 115 Streetscape/Land Use Master Plan, prepared in 2009. The project is also part of the Carolina Thread Trail Master Plan.
"It's been ten years since the master plan was completed," said Ashley, "and we felt it was important for us to go back into the neighborhood and ask for input on the planning and design of the linear park and multi-use path."
Serving on the committee are City Council members Doris Allison and Keith Williams; city representatives Russell Brown (Statesville Police Department liaison), Eric Heaggans (Bentley Community Center) and Mark Tart (Statesville Planning Board); and South Statesville community members Ted Raye, Carolyn Gray, Tenna Williams, Eva Harold, Myron Harold, Robin Williams and Andrea Britton.
A public meeting to gather community input is tentatively set for 4 to 7 p.m. on Tuesday, December 17, at the Bentley Community Center. More information will be provided closer to the date.
"Communication is the key to the success of this project," said Ashley. "We will stay in touch with the advisory committee members, providing them with additional information and updates on the project. And we have asked them to communicate with us any questions and concerns that might come up as they talk about the project with others."