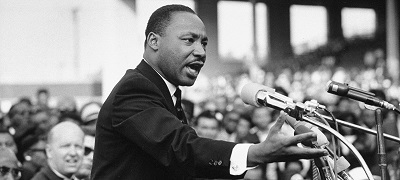 Special to Iredell Free News
The theme of the 25th Annual Dr. Martin Luther King Jr. Community Celebration is "Beyond the Walls of Division."
The following activities are scheduled in Statesville to commemorate the life and work of the slain civil rights leader:
Friday, January 17
Martin Luther King Jr. Program
When: 6:30 to 7:30 p.m.
Where: Shearer Hall, Mitchell Community College, 500 W. Broad Street, Statesville
Details: Speaker information to be announced at a later date.
Saturday, January 18
Youth Talent Expo
When: 11 a.m.
Where: Statesville High School Mac Gray Auditorium, 474 N. Center Street, Statesville
Details: The Martin Luther King Jr. Celebration Committee is hosting a Youth Talent Expo. It will involve Creative Writing, Art, Spoken Word, Poetry, Stepping, Dancing, Singing and Cross Culture Activities. We invite everyone to join us at this event and encourage our talented youth to participate and display their different abilities. It is an open mic event and there is no charge for admission. For more information contact mlkcommittee@gmail.com or call Myrah Lykes at (434) 579-4569, Katelyn Corcoran at (704) 880-0869 or William Jones at (704) 876-6784.
Sunday, January 19
Worship Service
When: 4 p.m.
Where: Trinity Episcopal Church, 801 Henkel Road, Statesville
Details/Speakers: Overseer Myrah Lykes was born on August 12, 1977, to Apostle Carl D. Lykes and Dr. Virginia W. Lykes. At the age of two, Myrah began singing her hallmark song, "I don't believe that he brought me this far to leave me." Her first message was preached at the age of 12 at Jeter's Chapel Baptist Church entitled, "A Name you can Trust." In 1994, she graduated from Halifax County High School at the age of 16 and was diagnosed with lupus. In 1996, she married Jamie Lamar Irby and to this union Jamie II, Alexis, and Anthony were born. Alexis proceeded her family in death. In 1999, she graduated from Longwood College. In June 2007, she received her masters in business administration and began pursuing her doctorate in Divinity. In 2011, she became overseer of the youth of the Apostolic Faith Churches of Deliverance. Upon her retirement from Halifax Public Schools in 2011, she now serves as academic advisor of the Academy of Excellence, where she serves students in many capacities. She is a spokesperson for The Lupus Foundation of America North Carolina Chapter and is CEO of Steps To Destiny, a nonprofit that empowers individuals who battle autoimmune diseases.
Reverend Brad Mullis has been the rector of Trinity Episcopal Church in Statesville since 2003. Prior to that, he served at the Episcopal Church of the Nativity in Raleigh. He grew up in Winston-Salem and earned his bachelor's degree from Davidson College. He holds a master's degree in English from the University of North Carolina at Chapel Hill and a Master's of Divinity from Duke University. He also studied at the Virginia Theological Seminary. Mullis has been privileged to speak at this service twice before. The Reverend Mullis's wife, Ellyn works at the Children's Hope Alliance. Their two children, Sally and Charles, are in college.
Monday, January 20
Community Prayer Breakfast
When: Doors Open 6 a.m.; program 7 to 9 a.m.
Where: Statesville Civic Center, 300 S. Center Street, Statesville
Details: The guest speaker at the event will be Shanta Lightfoot, an educator with 12 years of experience as a middle school teacher, central office instructional coach and administrator. She holds a bachelor's degree in Middle Grades Education and a master's degree in Curriculum and Developmental Supervision from N.C. State University, where she was a North Carolina Teaching Fellow; a principal certification from University of North Carolina at Wilmington; and a Gifted and Talented certification from East Carolina University. She is currently working on her Ph.D. at North Carolina A&T State University in Leadership Studies. Living by her mantra, "Literacy is a civil and human right," she ventured to EL Education, a national educational nonprofit. After one year as the Senior Professional Development Specialist supporting Detroit Public Community School District in implementation of curricular materials, student gains on the end of grade assessment outpaced the state of Michigan. Lightfoot currently serves as director of Curriculum Partnerships at EL Education, supporting Charlotte-Mecklenburg Schools. Her passion for equity often positions her to be an interrupter. She interrupts belief systems, thought processes, and structures that alienate and disenfranchise the most precious to us, our children. She firmly believes that "whatever you do for one of the least of these brothers and sisters of mine, you do for me" (Matthew 25:40). She was born in Elizabeth City, N.C., and currently resides in Raleigh. Lightfoot's triumph and testimony empowers her to be the hands and feet of Jesus, where service, a listening ear, and God-like compassion are exemplified. Her life's mission is "just to make Jesus proud."