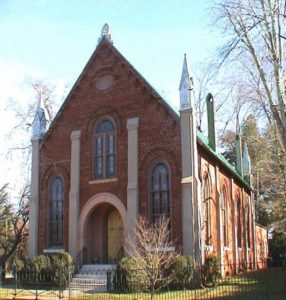 Special to Iredell Free News
Persons of all faiths are invited to offer thanks together at a special Community Inter-faith Service on Thanksgiving Eve, November 27.
The informal service is co-sponsored by Grace Baptist Church and Congregation Emanuel and will be held at Congregation Emanuel, 206 North Kelly Street in Statesville, at 6 p.m. The service is open to the public.
Representatives from different faiths and houses of worship will speak on the theme: "How Does My Faith Tradition Help Me in the Love of God and Neighbor?"
Beverly Maurice, president of Congregation Emanuel, and Steve Shoemaker, pastor of Grace Baptist Church, will lead the service, which will include prayers for the nation, traditional Thanksgiving hymns and special readings. A time of fellowship will follow the service.
"This service is dedicated to bringing the faith community together at a time when we are tempted to focus on how diversity divides us instead of how it can unify us," said Shoemaker. "We are truly grateful for an opportunity to come together and affirm our diversity and express our solidarity with one another."
Established in 1883, Congregation Emanuel is the second oldest operational Jewish congregation in North Carolina.
LEARN MORE
For more information, contact Shoemaker at 704-872-5130.